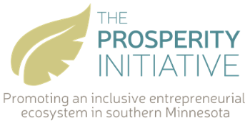 According to the US Census Bureau, 29% of Minnesota's population in 2040 will be people of color, an increase from only 4% in 1980. In response to this rapid growth, The Prosperity Initiative was designed as a Southern Minnesota Initiative Foundation pilot project to provide education and business resources to minority business owners and educate resource partners of the barriers and opportunities these individuals encounter.
The first phase of the program involved a survey of existing minority-owned businesses. Of the business owners that responded, 91% indicated they would benefit from additional resources to help their company grow and develop. In addition, 85% of respondents expressed interest in conferences, trainings and mentorships to gain business knowledge and network with others.
The main barriers identified through the survey were: 1) Lack of access to capital and alternative financing options. 2) Lack of, or poor, credit history. 3) Lack of community support and resources. 4) Cultural and language barriers.
The full report can be found on the SMIF website.
To address the survey findings and continue strengthening and coordinating resources available throughout the region, the Prosperity Initiative provides:
Trainings  ●  Mentorships  ●  Networking  ●  Conferences  ●  Business Financing  ● Partnership Opportunities  ●  Connections to Area Resources  ●  And More!
"Demographic shifts are changing the face of our communities in southern Minnesota," said SMIF Vice President of Economic Development Pam Bishop. "Thanks to the entrepreneurial spirit of our diverse communities, new types of businesses are starting and growing in our downtowns and industrial parks. The Prosperity Initiative gives minority-owned businesses the resources to start, grow and succeed. Helping individuals discover where to find resources, connecting them to experts in their field and placing coaches in their businesses is making a transformational difference."