Reading Oasis Room grants are awarded in partnership with Scholastic to communities committed to providing a community gathering place filled with 1,200 books provided from Scholastic, kid-friendly furniture, and a listening station and library. The Reading Oasis should be accessible to all children birth to age eight. Applications are generally due in February. For more information please contact Jennifer Heien, Grants Coordinator, at 507-455-3215 or jenniferh@smifoundation.org.
Reading Oasis Room Guidelines
*Guidelines are subject to change when grant round opens.
Northfield Reading Oasis Room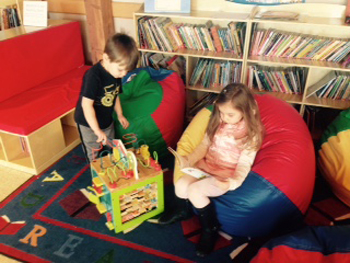 The Northfield Early Childhood Initiative Coalition (ECI) received a grant to put a Reading Oasis room in the Northfield Community Resource Center. This facility is home to several social service agencies, including the Head Start, Northfield Food Shelf, Workforce Development Center, Link Center, Community Action Center and more. They estimate over 2,000 children and families visit the Resource Center on an annual basis, making it an ideal spot for a Reading Oasis room.
"Approximately two thirds of the children who use the Reading Oasis room are considered at-risk," said ECI coordinator Sara Line. "In our community, we have a growing population of English Learners and work to offer many bilingual and non-English books. Our goal continues to be providing parents with additional early literacy experiences, especially those with risk factors."
With the Northfield public library under construction through the winter of 2015-16, it was an especially good time to bring an added space where families can read together to the community. "I've seen kids pull their parents down there after Head Start or ESL classes to play puppets and read books," said Line.