Existing home visitation programs may apply for funds to enhance and increase visitation services. Grants are funded through SMIF's Youth Trust Fund. RFP typically released in January. The current grant round is now closed. For more information please contact Jennifer Heien, Grants Coordinator, at 507-214-7040 or jenniferh@smifoundation.org.
Home Visiting Grant Guidelines (subject to change with new grant round)
Strengthening Families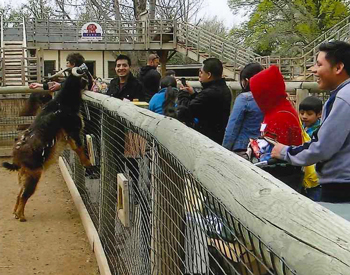 2016 will be the fourth year SMIF has awarded Home Visiting Grant Funds to the Reach Out Project in Watonwan County. The funds are used to provide education and enrichment opportunities to non-English speaking families in Butterfield. Initially there were 3-4 families attending the Saturday morning class, and now there are 20-21 families at each session. There has been great support from the City of Butterfield and the Butterfield School for the project. Topics covered include school readiness, fire safety, early brain development, nutrition and free immunizations along with some fun crafts and books to take home.
In 2015, SMIF's Home Visiting award allowed Watonwan County Public Health to take two full busses of families, manly relatively new Guatemalan immigrants, to the Sioux Falls Zoo. Every family received a packet of pictures from the day at the zoo and were able to put together a scrapbook to remember the special day.