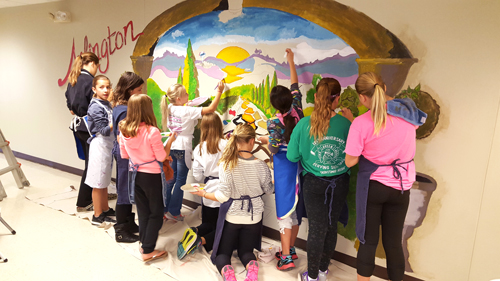 PHOTO: The City of Arlington used a Paint the Town grant for a welcome mural in its community center
OWATONNA, Minn., February 15, 2017 - Southern Minnesota Initiative Foundation (SMIF) is accepting applications for paint to be used for community murals or community welcome signs in its 20-county region. Paint the Town grants are administered by SMIF in collaboration with nine local Ace Hardware stores.
The participating Ace Hardware stores are located in Faribault, Mankato, Northfield, Owatonna, Rochester (3 locations), St. Charles and St. Peter. SMIF will donate 15-100 gallons of paint per selected organization, valued at around $25 per gallon. This grant is designed to engage volunteers, create a sense of community pride, and build collaborative efforts that beautify communities through "Painting the Town" with a new community mural or community welcome sign.
IRS-designated 501(c)(3) nonprofit organizations and units/agencies of local, state, and federal government in southern Minnesota can apply to receive paint products. This is a competitive grant; up to 10 small communities with a population under 10,000 will be awarded paint.
"We appreciate and value our partnership with these nine local Ace Hardware stores through our Paint the Town program," said Tim Penny, SMIF President and CEO. "SMIF sees investments in the arts in our smaller communities as an important component of economic development for our 20-county region."
All applications will be due April 18, 2017, and the grant awards will be officially announced on April 25, 2017. For application and guidelines, visit www.smifoundation.org. For more information, contact Jennifer Heien, Grants Coordinator, at 507-455-3215 or jenniferh@smifoundation.org.
About Southern Minnesota Initiative Foundation
Southern Minnesota Initiative Foundation (SMIF), a donor-supported foundation, invests for economic growth in the 20 counties of south central and southeastern Minnesota. The Foundation has provided more than $100 million in grants, loans and programming within the region during the past 30 years. SMIF's key interests include early childhood, community and economic development. To learn more about our work and mission, visit www.smifoundation.org.
About Ace Hardware
For 90 years, Ace Hardware has been known as the place with the helpful hardware folks in thousands of neighborhoods across America, providing customers with a more personal kind of helpful. With more than 4,850 hardware stores locally owned and operated across the globe, Ace is the largest hardware cooperative in the industry. Headquartered in Oak Brook, Ill., Ace and its subsidiaries currently operate 14 distribution centers in the U.S. and also have distribution capabilities in Shanghai, China; Panama City, Panama; and Dubai, United Arab Emirates. Its retailers' stores are located in all 50 states, the District of Columbia and approximately 60 countries. For more information on Ace, visit www.acehardware.com.