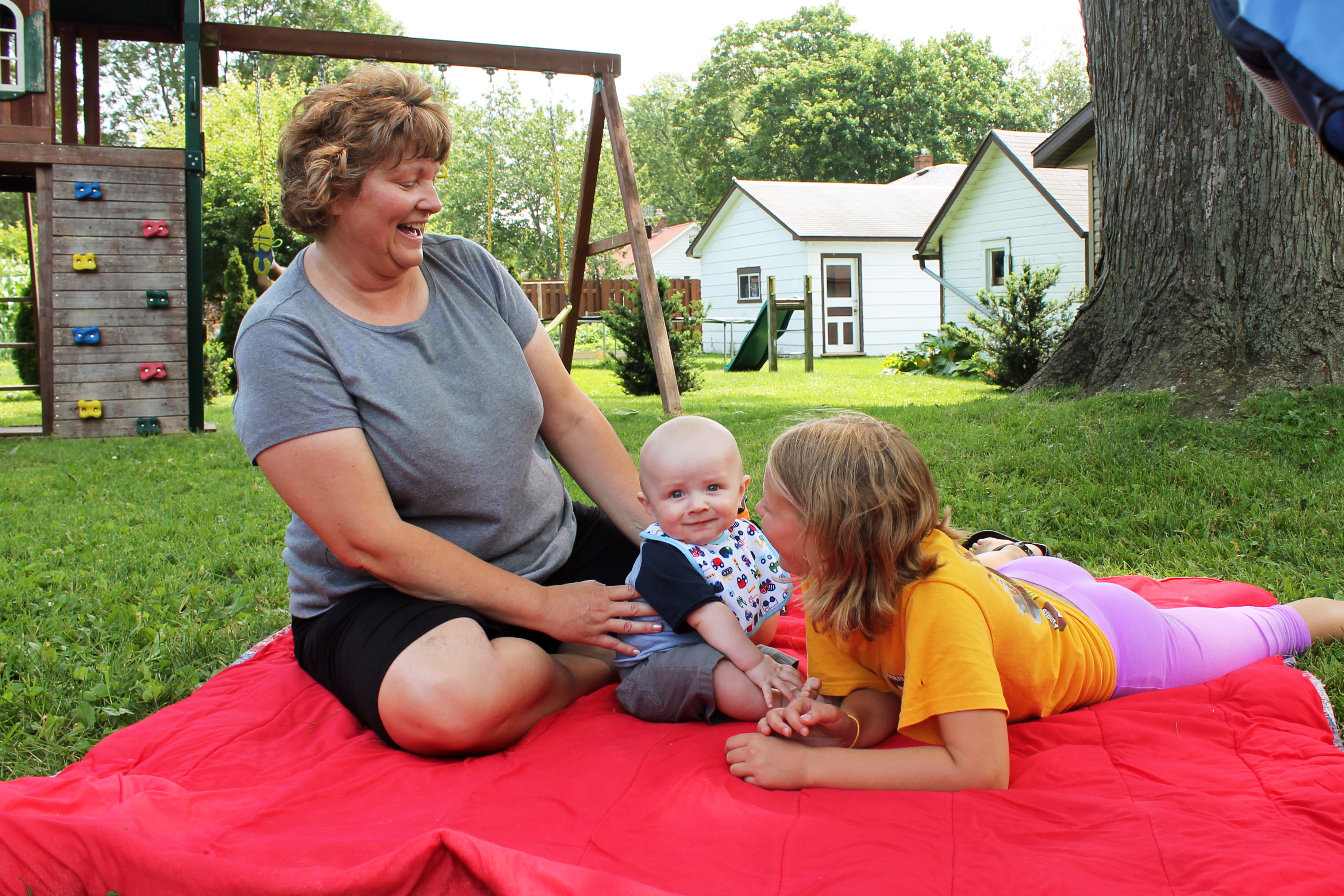 PHOTO: Caledonia child care provider Brenda Beckham, who has participated in SMIF's Quality Child Care Program
OWATONNA, Minn., January 10 - Southern Minnesota Initiative Foundation (SMIF) received a third grant from Mardag Foundation to help more children become better prepared for kindergarten. After successfully launching its Quality Child Care Program (QCCP) in 2013, SMIF will use this grant to expand the program in its 20-county region.
Due to the success of the QCCP program, Mardag increased its support from $20,000 in the first year of the program to a $200,000 for 2017-18. This brings Mardag's total investment to SMIF to $240,000. The most recent grant will enable trainings in seven counties (Blue Earth, Brown, Dodge, Goodhue, Olmsted, Nicollet, Sibley) over the next two years, but providers from other counties are welcome and encouraged to attend.
SMIF's goal is to continue to expand and increase the number of Parent Aware-rated, licensed family providers so they can provide quality programming, ultimately ensuring more children are ready for kindergarten. The program gives providers opportunities close to home: group trainings, one-on-one mentoring, and curriculum to support improved quality ratings. Through scholarships made possible by this grant, these opportunities are available at no-cost to providers.
"This program has helped create a paradigm shift in the way child care providers are viewed - and view themselves: just as much as providing care, they are small business owners," said SMIF President and CEO Tim Penny. "Access to quality child care is a critical piece of rural Minnesota's economic development health."
"Child care providers get into this business because they love working with kids, not because they always wanted to run a business," said Heidi Hagel-Braid of First Children's Finance, one of the QCCP training partners. "However, the business aspect is a huge part of what they do. This program helps them with the business side of things, as well as the quality requirements necessary for achieving their Parent Aware rating."
The state average for child care providers who participate in Parent Aware is 10 percent, while nearly 30 percent of providers who participated in QCCP in the four counties where SMIF held trainings last year.
"The Mardag Foundation is committed to creating building blocks that set Minnesota children on the path to successful and productive lives," said Jerry Timian, a program officer at Mardag Foundation.
"Studies show that by 2018, at least 70 percent of all jobs in Minnesota will require some training beyond high school," Timian said. "That is 2.1 million Minnesota jobs that will require skilled workers, and we know that the foundation for those skills is laid in preschool."
Parent Aware is the State's quality rating system, and it identifies and rates child care programs that go beyond state licensing requirements.
Other funders of QCCP include the Blue Cross® and Blue Shield® of Minnesota Foundation, Federated Mutual Insurance Company, F & M Community Bank, L & N Andreas Foundation, Medica Foundation, Otto Bremer Trust, Treasure Island Resort & Casino, William D. Radichel Foundation helping SMIF offer the program in 12 counties thus far and seven new counties added this year, including Rice. SMIF will continue to work with Child Care Aware Southern by Families First of Minnesota, First Children's Finance, and other local early childhood partners to implement the program.
"After a strong start, we've established QCCP as a key component in helping southern Minnesota child care providers engage with Parent Aware," said Rae Jean Hansen, Vice President of Early Childhood at SMIF. "With over 2,000 licensed child care providers in our region, there continues to be a need to expand QCCP. Ultimately, we strongly believe QCCP is helping to make more children better equipped to enter kindergarten."
Learn more about QCCP, including 2017 training dates, on SMIF's website.
About Mardag Foundation
Established in 1969, the Mardag Foundation is the legacy of Agnes Ober. The Foundation provides grants to nonprofit organizations that enhance quality of life, inspire learning, revitalize communities and build capacity for the arts across the state of Minnesota. Agnes' passion lives on through the work of her descendants who serve on the Foundation's board. The Foundation is an affiliate of Minnesota Philanthropy Partners. Learn more at mardag.org and mnpartners.org.
About Southern Minnesota Initiative Foundation
Southern Minnesota Initiative Foundation (SMIF), a donor-supported foundation, invests for economic growth in the 20 counties of south central and southeastern Minnesota. The Foundation has provided more than $100 million in grants, loans and programming within the region during the past 30 years. SMIF's key interests include early childhood, community and economic development. To learn more about our work and mission, visit www.smifoundation.org.