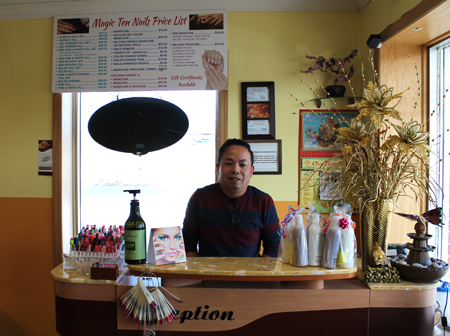 PHOTO: Viet Long, Owner of Magic Ten Nails in Owatonna, who received a SMIF Disaster Recovery Fund grant
December 22, Owatonna, MINN. – When yet another big rainstorm hit southern Minnesota in September, several rivers flooded. Waseca received over 10 inches in two days, the largest two-day rainfall ever recorded there, putting the city 13 inches above the average rainfall for the year. Steele County declared a state of emergency. A mudslide on Highway 61 temporarily blocked the road near Winona.
Everywhere, homes and businesses have been underwater in what has been a very wet year. The damage literally flowed beyond those areas receiving the most rain to communities downstream, such as Albert Lea and Austin.
Southern Minnesota Initiative Foundation (SMIF) and long-time disaster recovery donor AgStar were quick to respond. SMIF drew upon its Disaster Recovery Fund program, created during the 2007 floods, to provide affected businesses the first money they would receive.
"It was going to take two to three months for the insurance money to come through," said Viet (Henry) Long, owner of Magic Ten Nails in Owatonna. His business is across the street from the Straight River. "We couldn't wait that long to get back in business – as a small business, we needed to keep working to keep making money. I had taken out a loan for initial repairs, and was grateful to receive SMIF's funds so quickly to help buy new furniture and equipment."
Connie Scott, a local child care provider, also received a SMIF grant. "The flood that damaged my daycare came when I was still struggling to get up and running," said Scott. "I debated whether to repair the damage and start over, or close the doors. I am pleased with the looks of my updated and renewed daycare and look forward to moving ahead. [SMIF's] support made a big difference!"
In all, 17 businesses received a total of nearly $20,000. "We know that this is a small fraction of the clean-up costs," said SMIF President and CEO Tim Penny. "However, our Disaster Recovery Fund program is really intended to be quick, uncomplicated money to help fill the operating gap until insurance or other funds can kick in. Studies show that early money is crucial to help businesses decide to re-open. In our small towns, even the loss of one or two businesses can have a big impact."
"We support SMIF because we know that they can get stuff done," said John Monson, AgStar Senior Vice President of Marketplace Strategies. "We're eager to help these impacted businesses take the first steps toward recovery with a non-bureaucratic grant process and we are happy to partner with SMIF. They have a history of handling this program with efficiency and success."
View flood photos compiled by MPR News to see the scope of flooding damage: https://www.mprnews.org/story/2016/09/22/photos-southern-minnesota-flooding
About AgStar
AgStar Financial Services, ACA, headquartered in Mankato, Minn., employs more than 550 full-time team members. The company is part of the national Farm Credit System and has a public mission to serve 69 counties in Minnesota and northwest Wisconsin. AgStar's industry specialization, client segments and market delivery systems result in diversification nationwide. The company has expertise in the corn, soybean, swine, dairy and bio-energy industries. AgStar has developed successful programs in loans, leases, crop insurance, consulting and rural home mortgages. As a value-added financial services cooperative, AgStar allocates patronage dividends to its 15,400 stockholders. The company is also committed to giving back to rural residents, organizations and communities through AgStar's Fund for Rural America. Visit www.AgStar.com for more information.
About Southern Minnesota Initiative Foundation
Southern Minnesota Initiative Foundation (SMIF), a donor-supported foundation, invests for economic growth in the 20 counties of south central and southeastern Minnesota. The Foundation has provided more than $100 million in grants, loans and programming within the region during the past 30 years. SMIF's key interests include early childhood, community and economic development. To learn more about our work and mission, visit www.smifoundation.org.