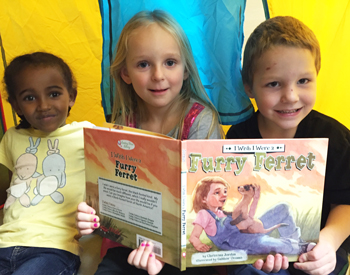 OWATONNA, Minn., December 7, 2016 – Southern Minnesota Initiative Foundation (SMIF) is now accepting applications for Home Visitation grants. Grant awards are available up to $10,000 each to enhance or expand existing Home Visitation programs. IRS-designated 501(c)(3) nonprofit organizations and units/agencies of local, state, and federal government in SMIF's 20-county region involved in home visits for early childhood development are encouraged to apply. The deadline to apply is January 31, 2017.
SMIF's Home Visiting Grant Program is designed to increase children's social-emotional readiness by supporting programs where early childhood development professionals work with caregivers and their children in home settings. SMIF is committed to ensuring that all young children thrive and have a healthy life of learning, achieving, and succeeding. A growing body of evidence demonstrates the home visitation approach is an effective method of making certain children and their families are safe, healthy, self-sufficient, and connected to community resources.
"We believe our Home Visiting Grant Program is yet another effective strategy in our multi-faceted approach to supporting southern Minnesota's youngest residents," said SMIF Early Childhood Director Teri Steckelberg. "When you meet families in their homes, the transfer of information is enhanced since caregivers can immediately apply social-emotional skill building knowledge and behaviors."
Grants for Home Visiting programs are available through SMIF's Youth Trust Fund, an endowed fund started in 1998 by Founding Cornerstone contributors: IBM Corporation, Mayo Foundation, Red Wing Shoe Company and Wells Fargo Bank.
Early Childhood Development Impact Measures
Mandatory Impact Measures (all applicants must measure and report):
• Identify how many children have been impacted by your project
• Identify the increased connections and communications with parents and the number of parents
• At least 75% children served demonstrate an increase in social/emotional school readiness proficiencies according to the developmental milestones checklist (MDE)
Funding
• Grants awards will be made up to $10,000.
• All grants require a dollar-for-dollar match. At least 25% of the match must be cash. No more than 75% of the match can be in-kind support. (In-kind support is defined as goods or services (rather than cash) that are used to directly benefit the project.
• Eligible expenses may include salaries, evaluation, training, and technical assistance.
To invest in economic growth in southern Minnesota, SMIF has supported early childhood efforts to make certain all children enter school fully encouraged, prepared, and supported for learning success. Over the past nine years, SMIF has invested $1.6 million annually for early childhood development initiatives.
For SMIF's Home Visitation guidelines and online application link, visit www.smifoundation.org or contact Jennifer Heien at 507-455-3215 or jenniferh@smifoundation.org.
About Southern Minnesota Initiative Foundation
Southern Minnesota Initiative Foundation (SMIF), a donor-supported foundation, invests for economic growth in the 20 counties of south central and southeastern Minnesota. The Foundation has provided more than $100 million in grants, loans and programming within the region during the past 30 years. SMIF's key interests include early childhood, community and economic development. To learn more about our work and mission, visit www.smifoundation.org.