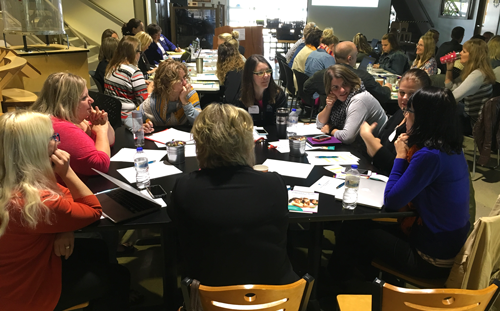 Photo: Educators, school administrators and child care providers gather in Mankato for a PreK-Grade 3 Alignment Strategy Session.
November 3, Owatonna, MINN. - Governor Mark Dayton and the Minnesota Legislature have given considerable attention to the needs of Minnesota's youngest learners in the past two legislative sessions. While they agreed on the importance of increasing access to early education, a large point of discussion was the best way in which to deliver it. Knowing that the Administration and the Minnesota Department of Education were actively seeking input, a group of early childhood stakeholders called the Minnesota PreK-3 Design Team, which includes Southern Minnesota Initiative Foundation SMIF), its five sister Minnesota Initiative Foundations, and other partners worked to develop recommendations on what a voluntary, statewide, mixed-delivery preschool approach could look like in Minnesota.The final report has been published and is available online at SMIF's website.
Recommendations by the Design Team included:
Provide a Mixed Delivery Approach: Recent statewide focus groups and surveys found that families strongly value having choices regarding where to send their children - including public school programs, child care centers, Head Start and family child care. This "mixed-delivery" approach allows for private and public funds to be combined to provide care to more children.
Support Higher Learning for Teachers: Teachers are the most important element of any early childhood program and the Design Team recommended that eventually all lead teachers have a 4-year college degree. It will take time, up to 10 years, for Minnesota's early childhood educators to earn these degrees and it is critical that current teachers, especially teachers of color, are supported in earning their degrees.
Use Public Funding to Target Children with Barriers to Opportunity: The Design Team recommends that public funding be targeted towards children who are less well off financially or may need more support. This includes children living in poverty, dual language learners, homeless children, children living in foster care, children with special needs and those who have parents who are in the military, incarcerated or teenagers. Quality preschool, while a vital step towards closing the achievement gaps that plague Minnesota, is not enough and the group recommends that attention also be focused on younger children as well as some of the systemic barriers that preclude opportunity for all children. "Unfortunately in Minnesota, most children waiting for help accessing quality early care and education programs are children of color. This is not only heartbreaking, but it's an enormous equity issue we must address. My hope is that this report will help us paint a direction for how we can do better in Minnesota to reach those children and create a more equitable early childhood system in Minnesota," said Dianne Haulcy, Director of Family Engagement at Think Small.
Involve Communities in Strategies and Implementation: Quality early childhood is relevant to families, employers and economic vitality. The Design Team recommends that a community-wide approach be used to design and implement local-level strategies and solutions. Parents, educators, business leaders, community based organizations, faith communities and more are encouraged to establish local collaborative hubs to ensure quality education for Minnesota's early learners through at least third grade. Nancy Jost, Early Childhood Coordinator for the West Central Initiative based in Fergus Falls says: "Greater Minnesota desperately needs more quality options, especially for our children living in poverty, so that parents can go to work and employers can fill jobs. Our rural communities need the broader stakeholders to come together and take care of our youngest children."
The PreK-3 Design Team Report reflects more than 35 voices from organizations throughout Minnesota. Jon Millerhagen, executive director of the Minnesota Elementary School Principal's Association was one participant in the workgroup. "Conversations were intense but good," he said of the process. "This was an important step in bringing Minnesota's early childhood players together and really focusing on the needs of children and families."
Find the full report here: http://smifoundation.org/what-we-do/ec_development/ec_programs/prek3.html