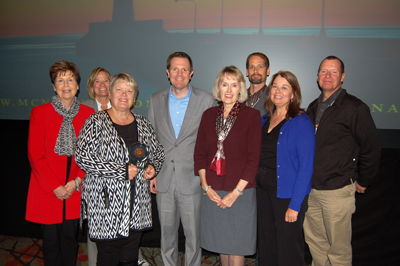 Photo: (L-R) Diana Anderson (Southwest Initiative Foundation), Wendy Merrick (West Central Initiative), Nancy Vyskocil (Northwest Minnesota Foundation), Tony Sertich (Northland Foundation), Lynn Haglin (Northland Foundation), Nate Dorr (Northwest Minnesota Foundation), Zane Bail (Northland Foundation), Christ Fastner (Initiative Foundation)
October 31, Minneapolis, MINN. - The Minnesota Council of Nonprofits presented the Responsive Philanthropy Award to Southern Minnesota Initiative Foundation (SMIF) and the five other Minnesota Initiative Foundations (MIFs) at its annual conference held on October 7, 2016. The award was accepted by Southwest Initiative Foundation President/CEO Diana Anderson, and a video was produced to highlight the MIFs and their work.
"The Minnesota Initiative Foundation model is unique; no other rural economic development foundation model exists that we know of," said SMIF President and CEO Tim Penny. "The McKnight Foundation gave us the flexibility to respond to needs as we saw fit when they established the six MIFs 30 years ago, and we've stayed true to that responsive, collaborative approach."
The Minnesota Council of Nonprofits is an association with more than 2,000 nonprofit members whose votes determine which Minnesota foundations and corporate giving programs receive this special recognition. Criteria for this award include:
- Responsiveness to citizen initiatives;
- Recognition of public policy issues and long-term strategies to fight problems; and
- Commitment of substantial resources to disadvantaged people and Minnesota communities through a process of dialogue and partnership.
The MIFs are six regional foundations working to strengthen Greater Minnesota; they have a deep history in collaboration, beginning with their establishment in 1986 in response to the farming, mining and overall economic crisis at the time. They believe that the best way to do the business of philanthropy is by being approachable, entrepreneurial and nimble, as evidenced by their grant making, business lending, programs, donor services and several statewide initiatives.
Individually and collectively, the MIFs share a culture of collaboration with the people of their regions, with nonprofit and business partners, and with each other. An example of this includes recent funding awarded from the State of Minnesota to support the joint work of the MIFs around Pre-K to Grade 3 alignment, recognizing their role in improving early learning outcomes for children in rural Minnesota.
Together, the MIFs have awarded more than 34,000 grants totaling $203 million, made $252 million in business investments and have combined community endowment assets totaling $270 million.
Visit greaterminnesota.net to learn more about the Minnesota Initiative Foundations and watch their award video.