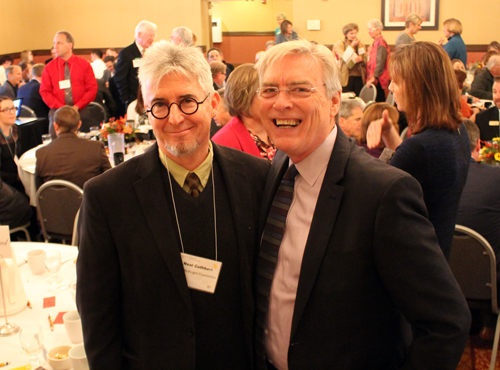 Photo: Neal Cuthbert, VP of Program at The McKnight Foundation, and Tim Penny, SMIF President & CEO.
OWATONNA, Minn., October 18, 2016 - Southern Minnesota Initiative Foundation (SMIF) announced a special $300,000 Community Collaboration Grant opportunity at its 30th Anniversary Annual Luncheon held on October 12 in Owatonna. These grants will be available for the 26 community foundations and 23 Early Childhood Initiative coalitions under its umbrella.
SMIF also announced the launch of its new brand at the Luncheon, which drew over 200 area partners across SMIF's 20-county service area. "Collaboration is at the core of how SMIF works to create vibrant communities and lasting change for our region," said SMIF President and CEO Tim Penny at the event. "Our new logo symbolizes how regional vitality springs from a strong, collaborative foundation. The Community Collaboration Grants are yet another way to celebrate what we've found to be some of our most effective collaborative initiatives: local community foundations and our Early Childhood Initiative networks."
At the luncheon, Neal Cuthbert, Vice President of Program at The McKnight Foundation, gave a keynote address on why McKnight seeded the six Minnesota Initiative Foundations (MIFs) in the 1980s farm crisis and why they continue to invest in the MIFs. "Everyone at The McKnight Foundation would testify that the Minnesota Initiative Foundations are exceptional, not only in the state or in the region, but in the nation; they are the only rural economic development foundation that we know of."
"Yours is a region of incredible beauty, people and assets," continued Cuthbert. "This unique richness is part of the 'why' McKnight continues to invest in SMIF."
SMIF's Annual Luncheon and award announcements were followed by a celebratory Open House at the newly remodeled Owatonna Arts Center.
For more information on SMIF's grant programs, visit www.smifoundation.org.
About Southern Minnesota Initiative Foundation
Southern Minnesota Initiative Foundation (SMIF), a donor-supported foundation, invests for economic growth in 20 Minnesota counties. The Foundation has provided more than $100 million in grants, loans and programming within the region during the past 30 years. SMIF's key interests include early childhood, community and economic development. To learn more about our work and mission, visit www.smifoundation.org.