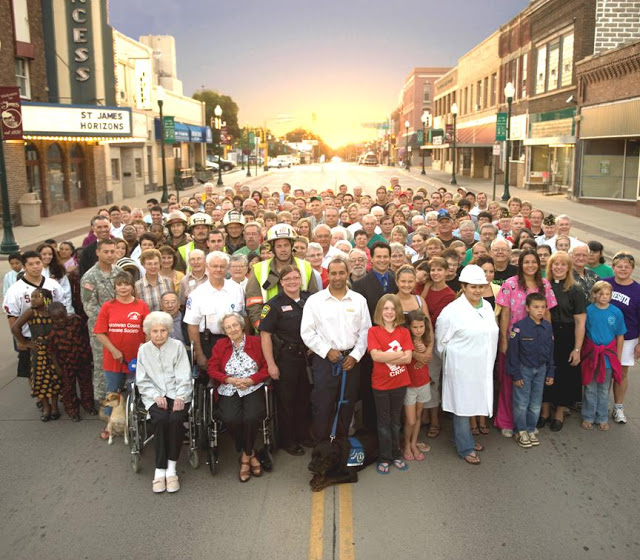 Photo courtesy of University of Minnesota Extension Center for Community Vitality
OWATONNA, Minn., July 21, 2016 – Southern Minnesota Initiative Foundation (SMIF) is happy to announce the addition of three new community foundations this past year: Eagle Lake Community Development Foundation, Lanesboro Area Community Foundation and St. Charles Area Community Foundation. SMIF manages funds for 26 community foundations and 37 designated funds as part of its mission to encourage local community philanthropy in southern Minnesota.
Community foundations, designated funds and donor-advised funds provide a vehicle for residents to make a long-term investment in their communities. "We know a key component to a thriving community is an active local community foundation," says SMIF's Development Coordinator Alissa Blaha. "Our goal is to make it as easy as possible for southern Minnesota's small towns to raise and grant money towards local projects to increase local community philanthropy. SMIF provides technical and administrative assistance such as yearly filing with the IRS and board trainings and resources on any needed areas to free up the boards time to focus on what matters most: increasing the quality of life in their community."
SMIF serves as the legal 501(c)3 entity and fiscal agent for funds; provides start-up assistance, trainings for fund board members and networking opportunities, oversight and management of the funds; and ensures ethical and fiduciary responsibility in managing charitable contributions.
In 1991, SMIF helped establish its first Community Foundation in Wannamingo and from there has branched out to other communities in its 20-county region, focusing on smaller communities that don't already have established foundations such as Rochester or Mankato. In its 30-year history, SMIF has invested more than $345,000 in matching dollars to community funds.
"SMIF is hands-off in the projects our community foundations choose to fund, as we want them to have full ownership in responding to the opportunities and interests of their community," says Blaha. One example of a project funded includes the recently-completed Blue Earth mural in the downtown area painted by artist Steve DeLaitsch. DeLaitsch's murals have sparked excitement in small towns and some murals have even gathered enough attention that the area around the mural was renovated.
Other community fund project examples include funding a community garden and rain garden (Harmony Area Community Foundation), helping 200 families receive food for the weekend through a backpack partnership program with the local school (Watonwan County Community Foundation), and a grant to start a local farmers market (Madison Lake Area Community Foundation).
"Southern Minnesota residents are generous people," says SMIF President & CEO Tim Penny. "By working with our small communities to set up community foundations, we're allowing them to capture this generosity and reinvest it to create vibrant places to live, work and play."
For more information on any of the 26 local community foundations, or how to begin one in your own community, visit SMIF's website at http://smifoundation.org/com_development/comm_foundations.html or call (507) 455-3215.