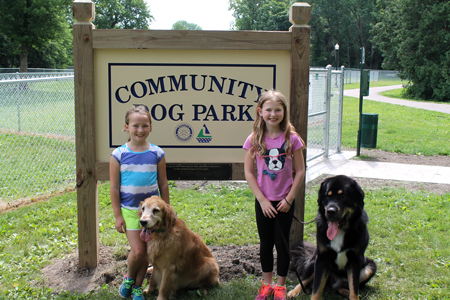 Photo: Elizabeth and Alyssa Olson with their dogs Trooper and Bruce at the grand opening of the Albert Lea Community Dog Park, one of the projects funded by SMIF's Community Growth Initiative
OWATONNA, Minn., July 13, 2016 – As part of its mission to promote regional economic opportunities and collaborations, Southern Minnesota Initiative Foundation (SMIF) has invested in 30 Community Growth Initiatives (CGI), typically working with one new community in its 20-county region each year. The City of Albert Lea just completed the process, and SMIF is happy to announce that St. James will be the Foundation's 31st CGI community in 2016-17.
Each CGI community commits to three stages of involvement: community visioning facilitated by SMIF, project implementation, and sustainable operation. The CGI community receives coalition support and project implementation grants of up to $20,000.
"The Community Growth Initiative is rooted in the Asset-Based Community Development model," said SMIF Vice President of Economic Development, Pam Bishop, who works with communities throughout the year-long process. "It can be easy in our communities to long for 'what was,' but with the CGI process, we strive to help communities identify what's working well and how they can leverage existing resources to create a better future."
Albert Lea recently celebrated the completion of two projects initiated and funded through its CGI: self-guided historical tours of downtown that utilize smartphones ("Cellfie Tours") and a community dog park.
"We're grateful to the Southern Minnesota Initiative Foundation for the grant and help with both of these projects," said Albert Lea City Administrator Chad Adams. "This process has been a great thing for our community; it helped us create a new opportunity to celebrate our past and make a new asset for the future – both these projects help celebrate who Albert Lea is."
Both Albert Lea projects have been well-received and are generating a lot of community interest and support. "We're just down the path from the dog park," said Albert Lea Boathouse coordinator Scott Hanna. "I've never seen this many people out and about. Everyone has different interests, but a dog park covers all the ages."
St. James residents are encouraged to attend the first phase of the St. James CGI; their "Bright Ideas Workshop" is scheduled for August 1 at the St. James American Legion from 5:15-8:30 pm. RSVP to Lori (507.380.8026 or loricnusbaum@gmail.com) by July 22. "This process only works if there is active community engagement," said Bishop. This is one of the factors SMIF evaluates when selecting new CGI communities.
Other outcomes from SMIF CGI communities include: Northfield's Riverwalk Market Fair; Red Wing Ignite, an innovation and entrepreneur incubator; Lanesboro Local, which provided the town with a grocery market; and Le Sueur' community vision strategic planning group, which turned into an ongoing community foundation.
For more information on SMIF's CGI Process, contact Pam Bishop at 507-455-3215 or pamb@smifoundation.org.