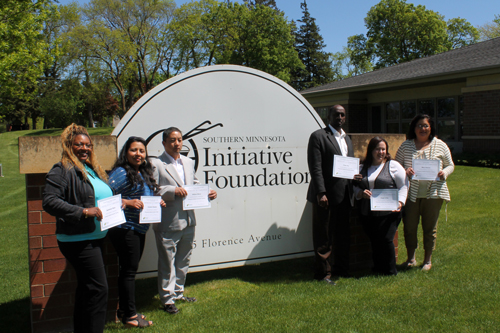 OWATONNA, Minn., May 19, 2016 – After launching The Prosperity Initiative at the end of 2015, Southern Minnesota Initiative Foundation (SMIF) congratulates the first six business owners on completing the program's executive training curriculum. The Prosperity Initiative, a program intended to promote minority-owned business growth in southern Minnesota, is funded in part by Minnesota's Department of Employment and Economic Development (DEED).
The Prosperity Initiative kicked-off with a conference in March 2016. 29 minority owned-businesses and 31 small business service providers and partners attended. The goal of the conference was to let business owners know about available resources, from legal to marketing assistance. Six businesses at the conference were selected via a competitive application process to participate in an intensive business training, which took place May 16-17 at SMIF's offices. During the 2-day training, the business owners assessed their company's performance, discussed their personal strengths, gained technical business knowledge and set goals for future growth.
The next step will be for minority business owners and mentors to convene on Aug 5th to get acquainted and begin their work together; SMIF is currently seeking mentors to assist companies in growing and succeeding over the next 6-9 months of mentorship, technical assistance and further training. Please contact Meg Steuer (megs@smifoundation.org) if interested.
SMIF will continue to work with key program partners to host a second training round later in 2016. The Prosperity Initiative curriculum is guided by a regional survey of minority-owned business conducted in 2015. Key findings from this survey indicated that only 13% of respondents received bank loans and 68% felt a lack of support or mentorship in moving their business to the next level. Common barriers for minority-owned businesses, according to the survey, included high-interest loans, overall lack of financial support, little knowledge of business resources and the lack of general business knowledge. The full report is available on SMIF's website: http://smifoundation.org/econ_development/ed_programs/the-prosperity-initiative.html.
"The Prosperity Initiative is currently a two-year pilot project, so we're trying to really listen and respond to the existing needs from the business owners themselves," said Meg Steuer, who has been leading The Prosperity Initiative at SMIF. "Starting a business is tough for anyone, but when there are language and cultural barriers, lack of credit history in the case of new immigrants, or knowledge barriers when it comes to existing resources, it's especially challenging."
"We know the demographics of our region are shifting," said Tim Penny, President and CEO of SMIF. "As we face an aging population, we know that the success of a diversity of business owners is key to our regional sustainability. We feel fortunate to have MN DEED as a partner in addressing how we better leverage new immigrant and minority populations in our entrepreneurial landscape in southern Minnesota."
The six minority-owned businesses to complete the pilot phase of The Prosperity Initiative training include: West Oakland Auto Repair, Austin; Stages of Change Center, Mankato; Intergrated Hands Therapeutic Massage & Bodywork, Winona; Rollingstone Mini Mart; Curb Appeal of So MN; and M&S of Rochester
In addition to Small Business Development Center-Rochester, other partner organizations include: Greater Mankato Diversity Council, Latino Economic Development Center (Minneapolis), Project FINE (Winona), Region 9 Development Commission (Mankato), Blandin Foundation's Leadership in Ethnically Diverse Communities Program, Community and Economic Development Associates, Minnesota Procurement Technical Assistance Center, Diversity Council (Rochester), Rochester Chamber of Commerce, African Development Center (Minneapolis), LegalCORPS, Regional Center for Entrepreneurial Facilitation (Mankato) and Welcome Center (Austin).
If you have any questions regarding the Prosperity Initiative, please contact Meg Steuer at MegS@smifoundation.org or 608-397-0079.
In photo, from left: Gwendolyn Blass (Intergrated Hands Therapeutic Massage & Bodywork), Cecelia Cifuentes (West Oakland Auto Repair), William Moua (Rollingstone Mini Mart), Omar Nur (M&S of Rochester), Angel Uribe (Stages of Change Center), Mary Reeves (Curb Appeal of So MN)