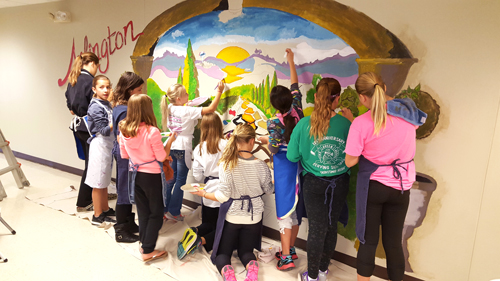 OWATONNA, Minn., May 3, 2016 - Southern Minnesota Initiative Foundation (SMIF) awarded $3,300 worth of paint from Ace Hardware to four communities across the region through its Paint The Town program. This program is a partnership between SMIF and 12 local Ace Hardware stores and is designed to engage volunteers and build collaborative efforts that beautify communities through "Painting the Town" with a new community mural or community welcome sign.
This was the second year SMIF and Ace Hardware have partnered on Paint the Town. Five projects received a total of 132 gallons of paint. The grant is awarded to projects that will have a visual impact, provide a public benefit to the community, and involve volunteer participation.
This year, the following projects were awarded to these mural projects in southern Minnesota:
8 gallons to Caledonia Green Streetscapes for their Main Street Mural community welcome sign
35 gallons to New Prague Chamber of Commerce for their "The Band Plays On" mural
43 gallons to Northfield Union of Youth for their "NUY" mural
28 gallons to Zumbrota-Mazeppa Public Schools for their "Building a Bridge to the Future: ZM Schools and City of Mazeppa" mural
18 gallons to Zumbrota-Mazeppa National Honor Society for their "School Spirit" and Beautification/Veteran's Thank You murals
"We feel Paint the Town is a good program that allows the different communities a way to add something unique, and in some cases tell a story about their communities," said Joe Donahue, owner of Faribault and St. Charles Ace Hardware stores. "All Ace stores are individually owned, are themselves unique and are neighbors to many of the communities supported by this grant."
"While this program is a relatively small investment compared to some of our other grant programs, the finished projects make a big impact in our communities," said Tim Penny, SMIF President/CEO. "The paint projects pull together several partners and are a great way to express community pride. We are pleased to have Ace Hardware as a partner in this effort."
The mural and sign projects are expected to be completed by December 1, 2016.
About Southern Minnesota Initiative Foundation
Southern Minnesota Initiative Foundation (SMIF), a donor-supported foundation, invests for economic growth in 20 Minnesota counties. The Foundation has provided more than $97 million in grants, loans and programming within the region during the past 30 years. SMIF's key interests include early childhood and economic development. To learn more about our work and mission call 507-455-3215 or visit www.smifoundation.org.
About Ace Hardware
For 90 years, Ace Hardware has been known as the place with the helpful hardware folks in thousands of neighborhoods across America, providing customers with a more personal kind of helpful. With more than 4,850 hardware stores locally owned and operated across the globe, Ace is the largest hardware cooperative in the industry. Headquartered in Oak Brook, Ill., Ace and its subsidiaries currently operate 14 distribution centers in the U.S. and also have distribution capabilities in Shanghai, China; Panama City, Panama; and Dubai, United Arab Emirates. Its retailers' stores are located in all 50 states, the District of Columbia and approximately 60 countries. For more information on Ace, visit www.acehardware.com.