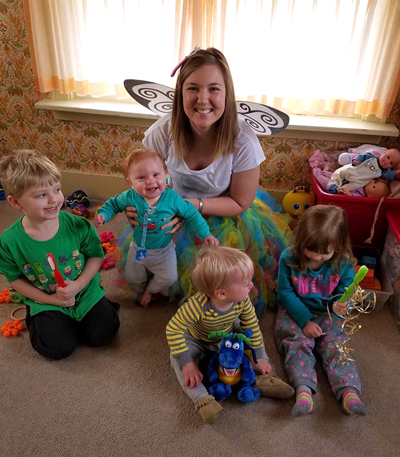 OWATONNA, Minn., March 3, 2016 – Southern Minnesota Initiative Foundation (SMIF) received a second grant for $60,000 from the Otto Bremer Trust to further its Early Childhood Dental Network initiative. It's estimated 17 million U.S. American children don't receive dental care on an annual basis, making dental care the most common unmet health need of children in the nation, according to the National Children's Oral Health Foundation.
"Tooth decay is not only one of the most prevalent issues in children's health, it's also one of the most easily preventable," said SMIF's Vice President of Early Childhood Rae Jean Hansen. "However, if left untreated, it can lead to a lifetime of health problems. The goal of the Early Childhood Dental Network is to increase awareness around the rising childhood oral health issue and to utilize our Early Childhood Initiative groups to work on solutions."
Childhood tooth decay is yet another area more likely to affect low-income children. Children aged 2 to 9 living below the poverty line are twice as likely to suffer tooth decay and are twice as likely to have it go untreated, according to Oral Health in America, A Report to the Surgeon General.
SMIF received its first grant from Otto Bremer Trust in 2015 to begin a pilot program in two of its 20 counties: Brown and Rice. The second grant will be used to begin implementation of the planning process in Brown and Rice Counties and start planning in Blue Earth, Martin and Nicollet counties. "These counties were selected because all have an established cross-sector network of early childhood professionals from our Early Childhood Initiative work," said Hansen. "They're approaching solutions to the problem of childhood oral health through a three-prong educational approach – that of dentists, care givers, and families."
SMIF currently has 22 active Early Childhood Initiative communities and hopes to keep expanding the lessons learned from the two-year pilot programs to those communities, as well.
"SMIF's Early Childhood Dental Network is providing access to critical dental care services for young children in areas of the state where there are often barriers to care," said Daniel Reardon, co-CEO and trustee of the Otto Bremer Trust. "We are pleased to continue our support for SMIF as they expand access to these services into more areas of southern Minnesota."
"The funding of our Early Childhood Dental Network has allowed us to pull together dental agencies, medical facilities, social service, public heath, school districts, and area Head Starts to raise awareness on the need for early childhood oral care," said Betty Uehling, Director of New Ulm's Early Childhood and Family Education Programs. "In Brown County, only 1 percent of 2 year old and 25 percent of 3 year olds had used their State Health Insurance to access covered dental care. Our projects include not only outreach to parents but also to child care providers and agencies that work with families."
SMIF joins three of its Greater Minnesota sister foundations – Initiative Foundation, Little Falls; Southwest Initiative Foundation, Hutchinson; and West Central Initiative, Fergus Falls – in developing a comprehensive Early Childhood Dental Network across rural communities in the state.
Common issues already identified include a lack of dental insurance, especially among low-income families; lack of knowledge about the importance of early childhood dental care amongst parents and caregivers; a lack of dental providers willing to see children at the age of 1 or at the eruption of their first tooth (as recommended by the American Academy of Pediatrics and the American Dental Association) and a lack of access to dental providers, especially those who take Medicaid and county-based insurance plans.
Visit www.smifoundation.org for details or contact Rae Jean Hansen (raejeanh@smifoundation.org) for more information on SMIF's Early Childhood Dental Network.
To get involved, contact Betty Uehling at buehling@newulm.k12.mn.us in Brown County or Ellen Haefner at ehaefner@northfieldschools.org in Rice County.
For more information about children's dental hygiene, SMIF recommends the American Academy of Pediatric Dentistry 2013 Survey: The State of Little Teeth.