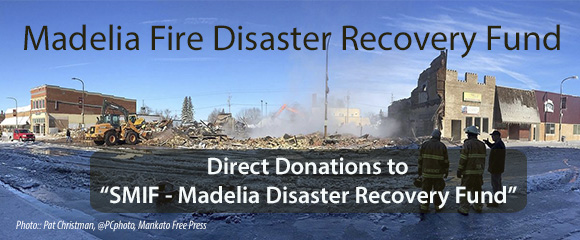 When a devastating fire took out a large portion of Madelia's historic main street earlier this month, the town and surrounding community were understandably shaken. Madelia's population is just over 2,200, but given the number of Minnesotans in our region and across the state who come from a small town, many people can relate to the severity of Madelia's loss. Images of the leveled lots served as a reminder of how many of our communities hinge on a small but thriving central corridor. We know from experience that the loss of just one business can be a blow; to have eight burn down is an enormous loss for a community their size.
However, I find it true that during life's hardest moments, true character shines through. Fire stations from several neighboring communities got through the snow to put the fire out as quickly as possible and no injuries were suffered. Southern Minnesota Initiative Foundation (SMIF) quickly put together a Disaster Recovery Fund, just as we did when floods hit the Rushford community in 2007, tornadoes wiped out dozens of farms in the summer of 2010, and when more floods came in the fall of 2010. SMIF aimed to raise $50,000 for Madelia. In less than a week, over $200,000 had come in. This is in addition to the thousands raised by local GoFundMe campaigns and other contributions. In early conversations with the business owners, tears of gratitude over the generosity of so many were shed.
SMIF's disaster recovery fund drew support from a wide range of interests: local banks, health care facilities, regional nonprofits and foundations, area businesses, and dozens of individuals. Several thousand dollars were pledged by our sister Minnesota Initiative Foundations. By 9 am the morning after the fire, $30,000 had already been pledged. SMIF is working with the business owners to get this money out the door as quickly as possible. This kind of overwhelming and immediate support is one of the biggest strengths of our communities. Time and again, I have seen this same generosity extended when a local resident is suffering from cancer, when a beloved community asset needs to be updated, when a terrible storm ravages a town and surrounding farms.
In a town hall meeting the Friday after the fire, the American Legion in Madelia was packed with community residents, local government officials, the business owners affected by the fire, and regional partners coming on board to assist. Governor Dayton was not alone in his support to do whatever he could at a State level to help Madelia move forward; representatives from the State and Federal Senate and House of Representatives were also present to provide their assistance and condolences.
We are happy to have Region Nine Development Commission as a partner in the disaster recovery process. They were quick to respond and have acted quickly and competently to assist Madelia and the business owners in starting to put together a comprehensive plan for moving forward. In early conversations, all business owners seem hopeful about the future and anxious to get their feet back on the ground. SMIF will continue to work with businesses and the Madelia community to ensure all short-term needs are being met and to support future economic development in the community.
Ultimately, as the smoldering finally subsides and the shock wears off, I find myself reflecting less on loss and more on all we have to be grateful and hopeful for. My sincere thanks to all who acted so bravely, quickly, and generously to help - and who continue to support - the Madelia community. I am confident that working together, as we already have, Madelia will continue to be a model of what makes the quality of life in our small towns worth investing in.
For more information on the Madelia Disaster Recovery Fund, visit SMIF's website: www.smifoundation.org. I welcome your comments and questions. You can reach me at timp@smifoundation.org or 507-455-3215.