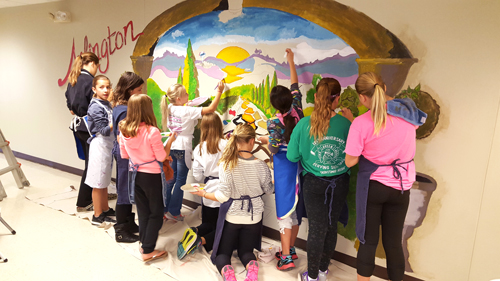 Southern Minnesota Initiative Foundation (SMIF) will be accepting applications for free paint for a community mural or community welcome sign project. This Paint the Town grant is administered by SMIF in collaboration with 12 local Ace Hardware stores. SMIF is generously donating the award of 15-100 gallons of paint per organization, valued around $25 per gallon. This grant is designed to engage volunteers and build collaborative efforts that beautify communities through Painting the Town with a new community mural or community welcome sign.
Through this grant program, IRS-designated 501(c)(3) nonprofit organizations and units/agencies of local, state, and federal government in southern Minnesota can apply to receive paint products. This is a competitive grant, as only 10 small communities with a population under 20,000 will be awarded paint through this program.
"We appreciate and value our partnership with these 12 local Ace Hardware stores through our Paint the Town program," said Tim Penny, SMIF President and CEO. "SMIF sees investments in the arts in our smaller communities as an important component of economic development for our 20-county region."
All applications will be due April 4, 2016, and the grant awards will be officially announced on April 25, 2016. For application and guidelines, visit www.smifoundation.org. For more information, contact Jennifer Heien, Grants Coordinator, at 507-455-3215 or jenniferh@smifoundation.org.