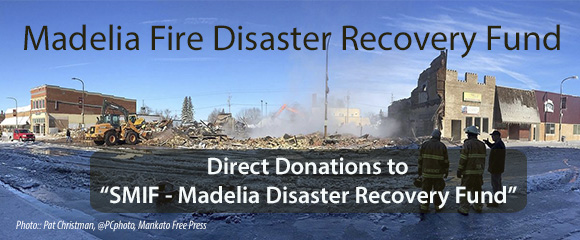 OWATONNA, Minn., February 11, 2016 – Southern Minnesota Initiative Foundation (SMIF) and its partners have raised over $200,000 for the Disaster Recovery Fund for those businesses and building owners affected by the Madelia fire last week. These funds will support the businesses impacted and the community's rebuilding efforts. SMIF lenders will be meeting one-on-one with business owners in the next couple weeks to get these grant funds out the door as quickly as possible.
"The loss of one business in a town the size of Madelia can be devastating, but to lose eight is really huge," said SMIF President and CEO Tim Penny. "However, the silver lining of tragedies like the Madelia fire is that the strength of our small town communities quickly becomes apparent. In just a week, we have far exceeded our goal of $50,000, and this is in addition to the dollars raised locally. It was a collective effort of neighboring communities to put the fire out, and it will be a similarly collaborative effort to help Madelia rebound."
"We are overwhelmed and touched by the generous donations made to our community," said Madelia City Administrator Jane Piepgras. "We want to sincerely express our gratitude to those who have contributed and to SMIF for setting up this fund. The donations will help our business people devastated by our recent fire."
SMIF would like to thank the following business and group donors, in addition to over 25 individual contributors, who have helped raise more than $200,000 to support the businesses and Madelia's rebuilding effort:
AgStar Financial Services
Blandin Foundation
Madelia Optometric Incorporated
Madelia-Truman Class of 1996
Mayo Clinic Health System
Minnesota Initiative Foundations: Initiative Foundation, Northwest Minnesota Foundation, Southwest Initiative Foundation, West Central Initiative
New Ulm Medical Center
NuWay Cooperative
Pioneer Bank
Tony Downs Foods
Trinity Lutheran Church - Truman
Wells Fargo
Region Nine Development Commission (RNDC) received $30,000 from Blandin Foundation and will be using these funds to help the City of Madelia throughout the rebuilding process and to put together a comprehensive plan.
"It's been very moving to see the amount of support Madelia is receiving in the wake of this disaster," said RNDC Executive Director Nicole Griensewic Mickelson. "Region Nine has been in the forefront in responding and coordinating efforts to position the community for a timely recovery. We will continue to support the affected businesses and the community by ensuring they are connected to resources. Madelia's resiliency will allow it to restore its vibrant downtown."
The businesses affected by the fire include: American Family Insurance, Culligan Water Conditioning, EZ Medical Wraps, Gethmann Dental, Hope & Faith: Floral & Gifts, Kay's Upholstery, Plaza Morena Restaurant, and Tressa Veona Salon.