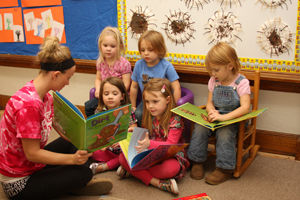 OWATONNA, Minn., February 10, 2016 - In an effort to promote early childhood literacy, Southern Minnesota Initiative Foundation (SMIF) and Capstone are offering BookStart grants to regional organizations working with young children. Now in its fourteenth year, the BookStart program is intended to ensure every child has their own book at home to read or be read to by family members.
For the fifth consecutive year, Capstone is providing 10,000 children's books to the BookStart program. Awarded organizations will be able to choose from a wide selection including bilingual and early childhood appropriate books.
"SMIF's long-time partnership with Capstone is key to our work in promoting early literacy," says SMIF's Early Childhood Director Teri Steckelberg. "We know that the education gap between families with resources versus those without starts early, which is why we strive to get more books to kids of all backgrounds in our region through programs like BookStart."
"Capstone is honored and excited to be part of the BookStart program and continue our valued partnership with Southern Minnesota Initiative Foundation," said Christie Skilbred, Corporate Giving and Literacy Center Manager of Coughlan Companies. "This program aligns with our goal of bringing books into children's hands and homes to help develop a love of reading and learning."
Applications should reflect collaboration with other organizations that support reading, target populations that may not have access to books, and promote early childhood learning through literacy at the family level. Eligible projects must be located within SMIF's 20-county area. Applications are due March 31, 2016.
Organizations wanting to be a part of this effort to promote literacy and learning among the region's youngest citizens are encouraged to apply for a BookStart grant. Visit www.smifoundation.org for details or contact Lynn Smith (lynns@smifoundation.org) for more information.
About Capstone
Capstone is a leading publisher of children's books in nonfiction and fiction, digital products and services and literacy programs. Capstone's content comes in a variety of print and digital formats including board books, picture books, interactive books, apps, audio and databases. Imprints under Capstone include Capstone Press, Stone Arch Books, Picture Window Books, Heinemann Raintree and Compass Point Books. For more information, visit www.CapstonePub.com.
About Southern Minnesota Initiative Foundation
Southern Minnesota Initiative Foundation (SMIF), a donor-supported foundation, invests for economic growth in 20 Minnesota counties. The Foundation has provided more than $55 million in grants and loans within the region during the past 30 years. SMIF's key interests include early childhood and economic development. To learn more about our work and mission call 507-455-3215 or visit www.smifoundation.org.