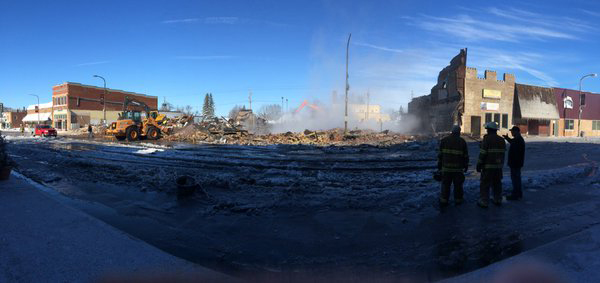 OWATONNA, Minn., February 3, 2016 — Today, AgStar Financial Services announced a $15,000 grant to Southern Minnesota Initiative Foundation (SMIF) to help relief efforts in last night's fire in Madelia, which SMIF has matched with $15,000.
Both organizations are encouraging other organizations and corporations to match their donations to help those most directly impacted by this disaster with a goal of achieving a $50,000 business recovery grant fund for impacted businesses.
"With a population of just over 2,200 people, losing key main street businesses is devastating to Madelia, as well as the region's farmers who depend on a thriving business community," explained John Monson, Senior Vice President of Marketplace Strategies. "We're eager to help these impacted businesses take the first steps toward recovery with a non-bureaucratic grant process and we are happy to partner with SMIF. They have a history of handling this program with efficiency and success."
Among the businesses affected were restaurants, a dentistry, an upholstery shop and the Culligan store, which was bulldozed down to stop the fire from spreading to the north side of town.
"In past years, when tragedy strikes our southern Minnesota region, we have worked with partners to provide business recovery grants," explained Tim Penny, Southern Minnesota Foundation Initiative President and CEO. "We are prepared to do the same for the Madelia community in the aftermath of their terrible loss. The Southern Minnesota Initiative Foundation is grateful to AgStar for offering an initial grant of $15,000 for this purpose and our Foundation is matching that grant dollar for dollar. We are also reaching out to other funders to support this business recovery program."
To donate please contact the Southern Minnesota Initiative Foundation at (507) 455-3215 or donate on SMIF's website.
Photo: Pat Christman, @PCphoto, of The Mankato Free Press
About AgStar
AgStar Financial Services, ACA, headquartered in Mankato, Minn., employs more than 550 full-time team members. The company is part of the national Farm Credit System and has a public mission to serve 69 counties in Minnesota and northwest Wisconsin. AgStar's industry specialization, client segments and market delivery systems result in diversification nationwide. The company has expertise in the corn, soybean, swine, dairy and bio-energy industries. AgStar has developed successful programs in loans, leases, crop insurance, consulting and rural home mortgages. As a value-added financial services cooperative, AgStar allocates patronage dividends to its 15,400 stockholders. The company is also committed to giving back to rural residents, organizations and communities through AgStar's Fund for Rural America. Visit www.AgStar.com for more information.
About Southern Minnesota Initiative Foundation
Southern Minnesota Initiative Foundation (SMIF), a donor-supported foundation, invests for economic growth in 20 Minnesota counties. The Foundation has provided more than $55 million in grants and loans within the region during the past 30 years. SMIF's key interests include early childhood and economic development. To learn more about our work and mission call 507-455-3215 or visit www.smifoundation.org.