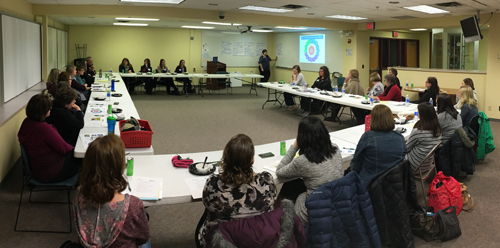 NEW PRAGUE, Minn., January 28, 2016 – Wednesday was the first meeting of Southern Minnesota Initiative Foundation (SMIF)'s newest Early Childhood Initiative (ECI) community in New Prague. Nearly 30 residents from a cross-sector of the community gathered at New Prague's Central Education Campus to get an overview of what the ECI process will involve and to take an assessment of the current early childhood resources in the area. Attendees included child care providers, early childhood family education representatives, preschool through 2nd grade teachers, health care professionals, librarians, parents, grandparents, social workers, community education, and business professionals.
"The goal of our Early Childhood Initiatives is to strengthen the network of care for kids from birth to age eight so that they are set up for success later in life," said SMIF Early Childhood Director Teri Steckelberg. "We know that 90 percent of a child's brain development happens in the first five years, which is why SMIF invests over $1.5 million annually to children and families in that critical early phase of life."
New Prague is SMIF's 22 ECI since 2003; typically, the Foundation adds one new community annually. Each ECI community commits to three stages of involvement over its two-year commitment: community visioning, project implementation, and sustainable operation. The ECI receives coalition support and project implementation grants.
"It's so exciting to have so many people together in one room who all care about the topic of early childhood," said ECI Co-coordinator Maggie Goldade. "We know this coalition will help improve collaboration between organizations, programs, and community members for the sake of helping young children and their families thrive in our community. We're looking forward to future meetings and discussing how we can leverage resources and fill the gaps."
SMIF will also be bringing its Quality Child Care Program to the New Prague Area this year, with the first informational session to be held on February 8 at Creeks Bend Golf Course, 6:15 pm- 9:00 pm. This program aims to increase the number of child care providers participating in the State's Parent Aware Quality Rating System, a quality rating program intended to ensure kids are better prepared for kindergarten. Child care providers interested in attending can RSVP by contacting Amber Sawyer at ambers@familiesfirstmn.org.
Those interested in being part of the New Prague ECI should contact co-coordinators Maggie Goldade (maggiewolf@gmail.com) or Mary Bartusek (mabartusek@isd721.org). Anyone interested in developing a stronger network of early childhood care in the community is encouraged to attend the upcoming meetings, the next of which is scheduled for February 18, 2016 at the New Prague Central Education Campus from 6:00-8:00 pm.
For more information about SMIF's early childhood programming and grant making, contact Teri Steckelberg at teris@smifoundation.org or 507-455-3215.