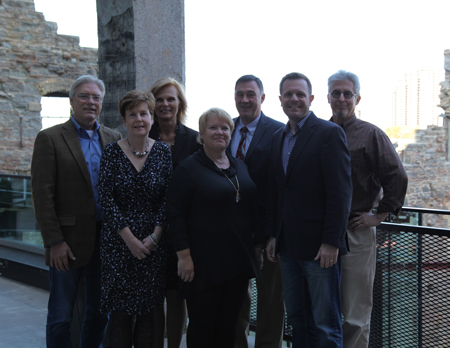 2016 is a big year, not only for the Southern Minnesota Initiative Foundation (SMIF), but our five sister foundations, as well. In 1986, at the height of the farm crisis, the Minneapolis-based McKnight Foundation was seeking a way to help revitalize Minnesota's rural economies struggling to rebound from hundreds of farm foreclosures, layoffs in the Iron Range, outsourcing of manufacturing jobs, and the exodus of young people looking for a brighter future elsewhere.
Thirty years later, the solution The McKnight Foundation developed after several regional conversations with concerned residents and rural leaders has proved an effective one: they created six separate Minnesota Initiative Foundations (MIFs) to individually serve the six non-metro regions of the state that could work collaboratively to share lessons learned and develop best practices for rural economic development.
One of the biggest needs during the 1980s was access to capital. Banks were hesitant to lend, but without access to capital and only 9 percent charitable dollars going toward philanthropic investments (compared to 66 percent in the metro), the MIFs were established not only to give grants, but to make loans. This was a unique permission granted to the MIFs, and to our knowledge, we are the only foundations in the U.S. that have this flexibility. SMIF and our sister foundations all received an initial investment from McKnight to make loans and grants around four focus areas identified in the early meetings: economic development, human needs, natural resources, and rural leadership. At SMIF, we continue to focus on investments to strengthen economic development initiatives, early childhood, and rural philanthropy.
After three decades and a total of $285 million investment from The McKnight Foundation to the six MIFs, we have collectively leveraged an additional $270 million in investments from other foundations, corporations, government, and individuals. These investments have helped diversify our rural economies beyond agriculture and manufacturing to areas such as biosciences, renewable energy, tourism, and additional social services. Millions of dollars and hours of technical assistance have gone to strengthening early childhood development efforts.
To me, one of the most valuable aspects of the MIF model is the collaborative nature between the six foundations. I meet four times a year with the other MIF presidents to discuss new programs, recent research impacting our work, forecasted needs, and success stories that could be replicated across our regions. Even though our regions vary greatly, we share a lot of common ground. This willingness to freely share information for the betterment of all is a Minnesota way of doing business we all take pride in. Not only are the foundations benefiting the 80 non-metro counties of Minnesota, they make us a stronger state as whole.
As we enter our thirtieth year, we are undergoing a strategic planning process to set our course and priority areas for the next several years. Early-stage investments in new and growing businesses as well as in our youngest generation have been focus areas from the beginning; we anticipate this will continue to be the case. However, we realize that technology, demographic shifts in our region, and continued advances in the areas of education, agriculture, and engineering necessitate that we remain flexible and responsive to the new needs going forward.
Part of going forward is learning from the past; throughout the year, we'll be interviewing past stakeholders and those impacted by SMIF's works – former presidents, Board members, loan clients, grantees, and partners. I encourage you to learn how much southern Minnesota has been transformed by the hard work of many in the past three decades by following our 30 Voices for 30 Years story board, which will be updated monthly on SMIF's website.
For a full history of the MIFs and our impact, I encourage you to read the Initiative Foundation's cover story in their latest IQ Magazine: 30 Years: A Model for Moving Forward. I welcome your comments and questions. You can reach me at timp@smifoundation.org or 507-455-3215.
For more information:
Minnesota Initiative Foundations: http://www.greaterminnesota.net/
IQ Cover Story: 30 Years Strong: A Model for Moving Forward: https://www.ifound.org/initiative-quarterly/4th-quarter-2015/cover-30-years-strong/
The McKnight Foundation: https://www.mcknight.org/