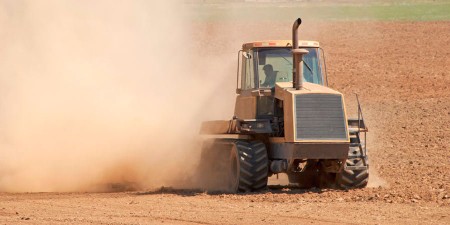 PINE ISLAND, Minn., November 13, 2015 – Southern Minnesota Initiative Foundation (SMIF) has recently approved funding from its Small Enterprise Loan Fund to Total Farming Technologies (TFT) in Pine Island, a start-up agricultural and diesel wholesale business. Pine Island EDA and Bremer Bank are partners on this loan.
TFT CEO Paul Mecikalski saw an inefficiency in the existing ag wholesale business: most products are being marketed individually through channels that are independent of the product developer. Mecikalski wants to turn this inefficiency into an opportunity to develop and market products together. He has put together a fleet of sales representatives to sell a wide-range of agricultural and construction products, such as diesel enhancement modules, tracks, midrollers, and attachments.
"Our goal is to become a leader in introducing new products to the agricultural market," said Mecikalski. "Since we're a start-up business, SMIF's ability to make early-stage investments is really going to help give TFT a strong start."
SMIF's loan will be used for equipment, working capital, and inventory. "TFT is a valuable tool for people and businesses in our region working in agriculture and construction," said Marcia Haley, SMIF SBA Lending Director. "We anticipate it being the go-to marketplace in these two areas, whether through ordering by catalog or on their website."
To learn more about Total Farming Technologies, contact Paul Mecikalski at 952-220-5381 or visit their website, www.totalfarmingtech.com.
SMIF provides a range of finance and management assistance services to start and grow businesses. To learn more, call Marcia Haley at 507-455-3215 or marciah@smifoundation.org, or visit www.smifoundation.org. SMIF is an equal opportunity lender. This loan was funded in part through a Cooperative Agreement with the U.S. Small Business Administration.