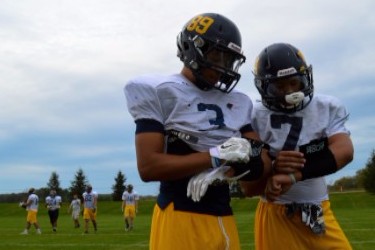 ROCHESTER, Minn., November 3, 2015 – Southern Minnesota Initiative Foundation (SMIF) recently approved funding from its Southern Minnesota Equity Fund (SMEF) to GoRout, LLC in Rochester for product development and roll-out. GoRout has developed a football on-field visual display device to increase communication between players and coaches. Rochester Area Economic Development Inc. (RAEDI) is a partner on this investment.
GoRout's technology, which is similar to a wearable smartphone, enables football teams to maximize their practice time, reduce mistakes, and improve communication. All on-field digital displays that players wear on their forearms are in a padded protective belt and come with a military-grade certification that ensures the displays are shockproof and water-resistant.
"GoRout started with a very simple mission of helping coaches and players communicate more efficiently on the field during practice. That's why we created football's only on-field wearable display technology," said GoRout CEO Mike Rolih. "GoRout gives coaches the ability to instantly communicate with all players on the field with a single push of a button without saying a word. Now every player can instantly receive the next play digitally and view their position-specific responsibilities in full animation."
So far, 30 football teams have utilized GoRout's product, including both high school and college teams. SMIF's investment will help them expand their marketing reach as they target more teams, including those at the professional level.
"This is a great example of the type of client we're trying to assist through SMIF's Southern Minnesota Equity Fund," said SMIF Lending Officer Diane Lewis. "They have an innovative product, a well-developed business plan, and the potential for huge growth. By being an early-stage investor, we can help them raise other necessary funds as they continue to grow." This is the fifth equity investment SMIF has made through its Southern Minnesota Equity Fund, which was created in 2014 to help high-potential companies in the start-up phase leverage other sources of capital.
For more information, visit GoRout's website, www.gorout.com, or call 507-272-7276.
SMIF provides a range of finance and management assistance services to start and grow businesses. To learn more about SMIF's Southern Minnesota Equity Fund, contact Diane Lewis at 507-455-3215 or dianel@smifoundation.org, or visit www.smifoundation.org. SMIF is an equal opportunity lender.