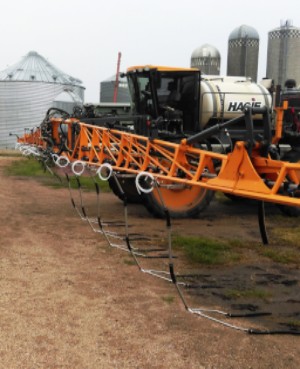 BLUE EARTH, Minn., October 23, 2015 – Southern Minnesota Initiative Foundation (SMIF) has recently approved funding from its Small Enterprise Loan Fund to Simplified Ag Technology in Blue Earth, which manufactures and sells fertilizer attachments for sprayers. The Faribault County EDA is a partner on this loan.
This is the second loan SMIF has provided to Simplified Ag Technology. SMIF's first loan helped the business launch last fall. During the first year, they were only selling their parts to one retailer. However, after receiving several calls from interested retailers and 100% positive feedback from those customers reporting back, Richard Lawrence, Simplified Ag Technology CEO, decided it was time to take the next step. Their lightweight fertilizer attachments can be used on any size sprayer to apply fertilizer or nitrogen close to the plant, reducing evaporation.
"Our first year exceeded our expectations," said Lawrence. "We're excited to have a partner like SMIF who not only helped us make this business venture a reality, but are now helping us expand our reach."
"Having a loan client come back for a loan to grow their business is the best case scenario," said Marcia Haley, SMIF SBA Lending Director. "In this case, the success of Simplified Ag is a testament not only to a good product, but the hard work of Richard and his team."
To learn more about Simplified Ag Technology, contact Richard at 612-270-5116 or e_lawrence_09@yahoo.com.
SMIF provides a range of finance and management assistance services to start and grow businesses. To learn more, call Marcia Haley at 507-455-3215 or marciah@smifoundation.org, or visit www.smifoundation.org. SMIF is an equal opportunity lender. This loan was funded in part through a Cooperative Agreement with the U.S. Small Business Administration.