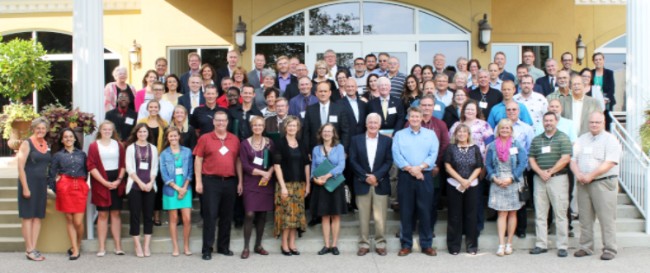 AUSTIN, Minn., September 24, 2015 – On Tuesday, September 15, Southern Minnesota Initiative Foundation (SMIF) convened 110 southern Minnesota business leaders at The Entrepreneurial Bridge conference at the Historic Hormel Home in Austin. The goal of this event was to foster connections between high-potential companies. With nearly 70 companies attending what was a full-day of panels, peer networking sessions, and an evening banquet, many new connections were sparked and existing ones deepened.
"Part of our role at SMIF is strengthening the regional economy. The Bridge event is a way of doing that by connecting local talent and building the capacity of existing high-growth companies," said SMIF VP of Economic Development Pam Bishop. "We were very pleased with how engaged all participants were and look forward to more seeds from this event taking root."
Over the course of the day, four panels of experts spoke on topics including keeping money in one's business, building a strong marketing presence, developing employee talent, and excelling at exports. The group also heard from three expert keynote speakers: Lucie Amundsen of Locally Laid Egg Company, Wrenshall; Ted Marti of August Schell Brewing Company, New Ulm; and Connor Wray with JonnyPops, St. Louis Park.
Another component of The Entrepreneurial Bridge was a student business competition. Seven student groups representing four schools – Gustavus Adolphus College, Minnesota State University, Mankato (MSU), St. Mary's University, and St. Olaf College – presented their business plans to SMIF's Leadership Circle. Mankato Pediatric Respite (MSU) and RED Food LLC (St. Olaf) were selected as the winners of the two $5,000 prizes.
The evening wrapped up with BizPitch, a new program of the Regional Center for Entrepreneurial Facilitation (RCEF) for entrepreneurs to present their business plans to a panel of local business experts. Two businesses – Mr. Hotdog and WaitThyme – received feedback from the room full of business CEOs and established entrepreneurs in attendance.
This event was generously sponsored by Rosen's Diversified Inc. (RDI) in Fairmont. "I have my roots in Fairmont, and when I started to see the population shrinking, stores leaving main street, and class sizes decreasing, I decided that I wanted to do something to inspire more entrepreneurs in our region," said Tom Rosen, CEO of RDI. "Starting a business is a hard and long process, but it can be very rewarding. We need to make sure we're supporting those who are willing to invest that effort in Minnesota's smaller communities."
View photos from the event on SMIF's Facebook page. SMIF provides a range of finance and management assistance services to start and grow businesses. To learn more, contact Marcia Haley at 507-455-3215 or marciah@smifoundation.org, or visit www.smifoundation.org. SMIF is an equal opportunity lender.