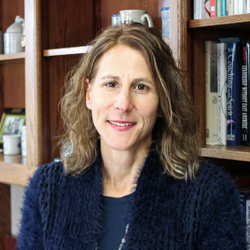 2nd Executive Director, 1993-2006
In her 13 years as Executive Director of the Southern Minnesota Initiative Foundation, TrixieAnn Girtz Golberg helped the Foundation solidify its place as a regional philanthropic entity through the creation of many new initiatives and significant endowment growth. She now leads the statewide nonprofit Lifetrack, which takes a multi-faceted approach to developing heathy stable families.
When you took over, the Foundation was moving into "phase 2;" some systems were in place, staff were undergoing training to relieve Board of some duties, and the second strategic plan was wrapping up. What were your priorities when you came on board?
It was important need to demonstrate 1) that we had the capacity to grow independent of the McKnight support, and 2) had something unique to add to the landscape.
The McKnight Foundation had taken a huge risk; the idea of a foundation setting up other foundations was unprecedented. Not only were they turning over assets and trusting the region to make decisions, they were lending their name and credibility.
Other priorities included: business development, entrepreneurship, community/rural revitalization, understanding and helping with the evolution our communities were going through from the 80s, and diversity (economic and cultural), which was already on the forefront.
Collaboration has always been key to the success of the Foundation. While some of the early years were spent trying to figure out what our role was and getting the word out, I imagine building partnerships was a one focus area of yours. Can you speak to how you approached strengthening partnerships? Who were some key partners during your tenure with the Foundation?
The University of Minnesota, particularly the Extensions, were big partners, but also the Humphrey Institute (we did a lot of research together around industrial clusters and economic research). The collaborations with community action agencies such as Three Rivers were key. Others included public sector agencies, larger nonprofits, existing community foundations, and other the universities (ie, Mankato State, Winona State). The other MIFs were a really important partner, both because we were learning together, and even on projects we weren't working together on we were benchmarking against each other. Blandin Foundation was a good partner and added some validation to our work in rural philanthropy.
It's important when we think about partnerships to remember they are not just about the money. We had to get past the mode of being purely transactional and not fall into that mode of traditional grant relationship – you ask us for money, we say yes/no, you go away for 12 months and we look at a piece of paper and give you thumbs up/down – and get to clarity around our impact areas and what it truly takes to work in partnership. We were focused on building the capacity in rural Minnesota, which was very complex and slow-going, plus just a very audacious goal.
What were some challenges and success?
We were still focused on trying to create a regional identity, which was hard because the region didn't see itself as a region. At the same time, we were trying to get visibility and credibility as an organization. We had to first make the case that south central and southeastern Minnesota is a real region and why. We tried different ways, such as name changes and taking in community funds…ultimately, working to find initiatives like the revolving loan fund that has equal relevance, but could be applied differently was a successful strategy. 
I think we moved to appreciate where it was valuable to have a regional identity and accept that it didn't have to exist at every level. We learned to be flexible, realizing that some things are going to be "south central," others "southeast," and there were other areas where it was helpful to work from one voice.
SMIF's endowment grew significantly under your leadership. What were some contributing factors to this growth?
Determination, flexibility and vision! The organization was young, I was young – bring it on! It was a lot of naiveté: "we can do this, we can do that"…it was just a lot of doing.
Being comfortable in the role of philanthropy means you're always evolving: in your work, in the community, and with the issues. The biggest threat to any foundation or philanthropic effort is stagnation.
Because we were started with a unique relationship with McKnight who had high expectations for growth, we went through this hyper-maturation process because everything was set on these 3-4 year timelines. If you track the Minnesota Initiative Foundations' growth against other foundations, you'd see how quickly we had to develop. We had to evolve in real time in communities that were experiencing a lot of stress. 
What are a few things that you accomplished while you were at the Foundation that you felt have had a lasting impact?
The creation of the statewide Early Childhood Initiative was really impactful in helping the state get to where we are today in the conversation around early childhood development. The six MIF presidents did a retreat with the intent of digging into those areas where we had commonalities, where everyone at the table could say "this is critically important to my region." We went through everything, from housing to seniors to economic development. It was early childhood development that rose to the top.
It was really the Initiative Foundations bringing early childhood development forward as a shared critical issue that moved the needle on the issue at a state-level, even though we all allowed our programs to take their own forms. At that time, not only was more research coming out on brain development in early years, but child care was starting to become a workforce issue, so businesses were starting to become interested.
The disaster recovery toolkit was something we created, and it was applied and morphed in many other ways. It was, quite frankly, the first one that had been put together. It was based on one of the floods or tornadoes that hit our region.
Other things include the diversity network, which I'm really proud of, the nonprofit capacity building workshops and our entrepreneur toolkit, which was designed to be a self-assessment to help them think strategically about their business.
What do you see as critical next steps for smaller, Midwest communities to remain not only viable places to live, but vibrant communities that attract newcomers?
A lot of the first things that come to mind now are the same as 30 years ago:
Jobs! The ability to support yourself and your family is fundamental to a healthy community. You need access to education to pursue a job. Jobs that support business development, a diverse economy across business size and industries. A challenge has always been balancing the dominance of agriculture with new industries that support the old workforce.
Embrace change. Those communities that are embracing change are those that are going to thrive in the future. They have more comfort with the ambiguity. Diversity is a strength. We need to keep focusing on reconciling disparities. The more our regions and communities become the examples, that's going to contribute back into the sustainability of the region.
What does critical infrastructure mean, and how do we support that? It can be physical infrastructure, education infrastructure, and social infrastructure. The Foundation needs to understand what "infrastructure" means and be willing to make the necessary investments.