Nicole Griensewic Mickelson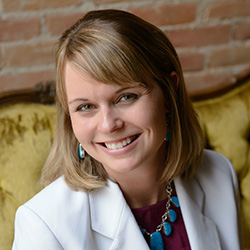 Nicole Griensewic Mickelson is the Executive Director of Region Nine Development Commission (RNDC). RNDC has been a long-time economic development partner of the Foundation's, most recently on the Madelia fire relief effort. Nicole offered her insight on what it will take for southern Minnesota communities to move forward together.
SMIF and Region Nine have a long partnership – in fact, Teri Stone was one of our founding board members.  How do you feel SMIF supports the mission of Region Nine?
First of all, we're able to be really good partners because we have vey similar goals. Our mission statements might sound a little different, but if you take a step back, they're very similar if not almost the same in a lot of ways. I like that I can have a closer pulse on these nine counties and then be able to call Tim at SMIF and say "here's something that's going on in your western part of the region." I really appreciate that my opinion and voice from these nine counties is respected and heard. If I say "here's an issue in this community," or "here's a project that's happening here," SMIF has been very receptive.
Part of partnership that's great for Region Nine as a governmental organization is that we are never the ones who can hand out the money. SMIF has been very helpful in saying either, "yeah, we can do that," or "we can't, but try this other organization." For example, with the Madelia fire, we were able to reach out to Blandin Foundation, who has a good relationship with SMIF, and request funds, which they gave to SMIF to split between the two of us.
How do you feel you've changed the direction/focus of RNDC since becoming ED?
I think we've been able to take our understanding of "community development" and stretch it even larger. What are projects or really cool programs that no one else is doing? Or there's funding over here to do this new initiative and nobody else is touching it, so if no other nonprofit or organization is going to do the new cool pilot or project, we'll take it on.
So, we were the first development commission, and as far as I know, the only DC in Minnesota, to do a climate change adaptation plan. We brought in MNDot, DNR, local leaders, etc. to look at what adaptations there are to be made aware of. There are have been other projects like that – solar garden workshops around the region, these "how to talk" conversations, and more – and someone recently commented to me on how progressive we are. I think we've been able to be progressive because of support from our commissioners and focus on meeting needs and no one else is.
Mankato as a regional hub has a lot of cool resources and programs. The struggle is how you get those into the rest of our region. What I'm really proud of is as a Development Commission, we have been looking at where the needs are. So, if you don't live in Mankato but there's a really neat program you could benefit from, how can we make partnerships to bring resources to Waseca and Faribault and Gaylord, for instance.
We have a really talented staff that makes me look good. Sometimes there's a misconception that we're just another layer of government, and I'm like no, we're there for the communities that are smaller that don't have the capacity otherwise. The regions that don't have an RDC are realizing there are some funds and resources they're missing out on.
What are your biggest organizational challenges/what keeps you up at night?
Being tasked by my board of commissioners to address what Region Nine's role is in bringing people together around minority population issues, new immigrants, the achievement gap. I don't know how to answer that. I am a white female coming from a place of privilege. I grew up in Mankato with two working parents who were very much able to support us, even as public school teachers. I was very open with Blandin to advocate with conversations around diversity; I reached out to the YWCA to help us start in on this "It's Time to Talk" program. We have eight communities identified, and now we need to go out and get a handle on what the issues, fears and anxieties really are. 
How do you communicate the benefit of being inclusive and representative of your communities in terms of leadership roles?
Regardless of your personal, political, or spiritual opinions, if you look strictly at data and regional needs – make it almost impersonal, you just look at numbers – the fact of the matter is, we need workers. So if any politician is talking "jobs, jobs, jobs," if you look just at the numbers of baby boomers retiring and the jobs we need filled, it's just simple math. We need to be welcoming and inclusive and retain the talent and leaders that we have, no matter their race or background. We need everyone.
We need to retain everyone and attract others, not just "here's a pan of brownies, welcome to the neighborhood," but we need to be honest. I have a friend of a different religion and race, and she said "you know, Minnesotans are really nice, you're great people, and you'll be nice to people of all races, but when is the last time you invited someone of a different background over to your book club or over for ladies wine night?" Minnesotans are really good at being that first step of welcoming, but what are we really doing to bring others into our circle of friends? I think we need to start taking those next steps to really be welcoming. 
As you look to the future, what do you feel we need to be focusing on in Greater Minnesota to ensure our communities remain not only sustainable places to live, but vibrant ones for all people?
I think what this election has shown us is that we know rural Americans feel like their voices are not being heard. I believe that we have to figure out a way for rural communities and individuals and leaders to feel like their voice is heard and that it's important. So, you have residents here who might have to drive 45 minutes to the nearest regional center to get your groceries or what have you, yet they're still paying a sales tax increase but feeling like they're not seeing any infrastructure improvements. It's being thoughtful of what makes sense and how bigger cities understand and support the smaller towns.
For instance, the Mayor of Mankato is on our board. What I appreciate about him is he's from Lake Crystal and he understands big cities need little cities. Every year since I've been here we've done a bus tour because, as the Mayor of Mankato said, "we need to get out of Mankato and go see what these smaller towns need." I think that's amazing that the mayor of our regional hub wants to get out into the region. I think we need to keep doing things that like that to keep innovating and making sure we're giving people a platform and a voice.
We have some cities where people don't want to be mayor or on city council because they don't want to be attacked on social media or other platforms, yet the consequence is there voices aren't being heard. So how do we encourage people to run and encourage other people to be able to respectfully disagree without being mean. It's really difficult in these small towns if you're a city council person with a full-time job, or are the city administrator who doesn't have time to go to all of these trainings…how do we figure out what the training needs are and how we raise the next generation of leaders. We need to be sure we are encouraging people to get involved with government.
When you're in small town government, it's a whole different world that if you've only lived in a bigger city, you just can't understand. Any of those leaders are not able to go to all the USDA trainings and learn about all those special programs, they're not always able to go to Blandin grant trainings. So that's another area that we're trying to figure out: how do we bring these resources and funders to them so they don't always have to drive to the Twin Cities?
Any other thoughts?
I think Region Nine and SMIF will continue to be successful if we continue to be open to what the changing needs and new issues are year-to-year and decade to decade. You know, we use to have an anti-smoking program focused on Latina high school girls, which was a need at the time, but I'm glad it's not anymore. We'll be successful if we're okay with jumping into things that we've just haven't always done. I always say if I'm doing this job 10 years from know, I don't want to be going to a meeting talking about the need for broadband in rural Minnesota. We want to be working on the next issue.