Melissa Kjolsing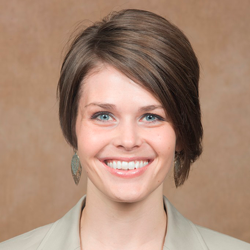 Melissa Kjolsing is the Director of Minnesota Cup, the largest statewide startup competition in the U.S. SMIF has been a long-time partner of Minnesota Cup, so it was fun to chat with Melissa about her thoughts on entrepreneurialism, emerging trends and this mutually beneficial partnership. 
Where do you hail from originally?
I grew up on a small acreage near Mankato.
What makes the Minnesota Cup so successful?
I think it's the people. We've developed an organization and a program that puts the entrepreneurs, the volunteers and the supporters at the heart of what we do. At the end of the day, we're trying to support these entrepreneurs, but you need to make sure that people – no matter what their role – are getting something out of it. Volunteers can only do so much while feeling like they're walking away with something, as well. I think that they get this great opportunity to support and nurture early-phase companies, to learn about new business models, to be pushed intellectually in a different way. I also think it's working with companies that are trying to disrupt and improve and change our lives. It gives you hope when sometimes things aren't so hopeful.
I think another thing that makes the program exciting and ever-evolving is that the people that have ideas of ways to improve it; that helps us keep it relevant and as easy as possible for entrepreneurs and volunteers.
The SMIF award given to the top entrepreneurs competing from its region has been a model that has translated into so many different opportunities, such as the top woman award with the Carlson Family Foundation and the top minority-led business through MEDA and Securian with their award…by getting creative and doing things to make it easier for both sides of the partnership, it then goes into this cool opportunity that you didn't even anticipate or expect by being open and flexible. Now we've been able to strike up opportunities with others and take SMIF's initial prize of $25,000 and create new opportunities so that more companies get seed money.
How do you feel SMIF supports the mission of MN Cup?
If you know about Minnesota Cup, you know that we're very lean and depend on sponsors and volunteers significantly. MN Cup is myself and a team of wonderful interns that execute this program every year. We have about 350 volunteers and over 70 sponsors.
One of the things  I was very conscious of coming into the program is that we've positioned ourselves as a statewide entity that's based in the Cities, so we need to have champions in every corner of the state that are aligned with our work and our mission, sprinting hand-in-hand toward these goals. It was a no brainer to connect with Pam after I got into this role and say "I know you're doing a lot with entrepreneurs - how can we find ways to collaborate so that entrepreneurs in SMIF's region can take advantage of this free resource? And how can SMIF find entrepreneurs that are maybe in your backyard that you just didn't know about or they didn't know about SMIF?"
I don't see it as one supporting the other. I do think it's very much a collaboration and a relationship that benefits both groups. I think that's what makes the partnership work so well. It's such a big region with so much going on, and such a diverse region – from food to health care to manufacturing – it's really pretty amazing.
Any observations on upcoming business and innovation trends that you think southern Minnesota entrepreneurs (and those who support them) should be thinking about?
I think SMIF's focus on food and agriculture is at the forefront of a lot of what's happening. I think SMIF is doing a great job of tapping into some of those trends and capitalizing on the infrastructure of SMIF and also the region to do some unique things.
Entrepreneurs don't know what they need until they need it. I think trends that we're seeing right now are 1) collaborative spaces that allow people to connect at one central point where they can walk in and say "I need 'X.' I need help with this."
And 2) locally and nationally, this drive, once you have these spaces, to go deeper into a specific area of expertise. A great example is what we're doing with MN Cup and Grow North. Grow North is our first effort to go deeper into an industry/more vertical to support entrepreneurs.
Also looking at some of the institutions in your region, whether Mayo Clinic or Minnesota State University-Mankato, I think more and more the trends are figuring out ways to bring institutions and corporations into the conversation.
I think Minnesota as a region can really differentiate ourselves by figuring out a secret sauce of the Targets, the Mayo Clinics, the colleges – figuring out a way to accelerate a conversation with these companies and institutions and entrepreneurs to benefit both sides through expertise, knowledge and potential customers…all these things connecting could really make Minnesota a great place for entrepreneurs to come and want to start businesses.
We often say that our region, and rural America in general, retains a pioneering sense of entrepreneurship, yet we've also struggled with "brain drain." Any suggestions of ways to incentivize more entrepreneurs to either locate to or remain in Greater Minnesota?
I think about growing up in Mankato and why my parents moved there. I think with any economic development play, you're thinking about the assets you have and how you can leverage those assets. It's not just about a great place to live and quality of life for a variety of different reasons, but it's a great place to raise a family. There's cool stuff going on here.
Positioning some of the companies and opportunities, sharing the stories in a different way is important. We need to shift the narrative. That's why I think it's great it's being talked about. It's really about "who do you want to market it to?" because the messaging is going to be a little bit different depending on what stage of life someone is at, whether it's Millennials, people starting families, etc.
People look at Europe's model, but you don't necessarily need to move across the Atlantic ocean to adapt that kind of lifestyle…you can move to Greater Minnesota! A lot of concerns for entrepreneurs is resources and talent, and so we need to market that those are not issues.
What keeps you up at night?
It's like with anything: trying not to become this institutional, stale program. The thing that keeps me up is questioning how can we stay competitive and serving entrepreneurs in the best way that we can. How can we keep them first and keep this fresh so it continues to be a resource they look to and want to use?
What is your greatest joy?
It goes back to the people. It's so much fun working with these entrepreneurs who are doing such awesome things. I was working on sharing a message with our network on Asiya, who won the social division this year and top minority and woman-led business, they're launching a kickstarter…you know, we're only four weeks out from the competition and they're already hitting another milestone. I love to share that stuff and to see how these companies evolve, grow and succeed.
It's fun to know that MN Cup was just a very small part of their journey, but I love to feel like part of their success. They're now part of the MN Cup family, and I want them to feel proud of that. It goes back to what keeps me up at night .
How has your experience with entrepreneurs changed your life?
It makes me want to be one. Short answer. You start to tap into a part of your brain where a part of your is excited. I'm a crafter/maker outside of work, and I do it because I think it's a great relief, especially when you're in a job when you work hard on a project and it maybe doesn't come to life or have that fulfillment at the end of it…I like projects where there are pieces laid out and at the end you have something to show for it, whether it's a meal or a Pinterest idea that seems cool.
You work with these people and you realize that it just takes an idea and passion, commitment, which I thank so much is a part of Minnesota culture: being dedicated, loyal, believing in something. All of those pieces are very entrepreneurial, and you just need that spark to take it in a new direction. They give you hope on a variety of levels.
What do you feel we need to be focusing on in Greater Minnesota to ensure our history of entrepreneurialism remains strong into the future?
One of the biggest things is how can we embrace some of these entrepreneurial values of putting ourselves out there, getting feedback, and tweaking until we get to a place that's something we continue to be proud of yet is always evolving. To drive for more success within the space we're in, we have to put on that entrepreneurial hat of our own and do some things that are a little bit risky, that make us vulnerable, that allow us to get some critical feedback and learn and change what we want to do.