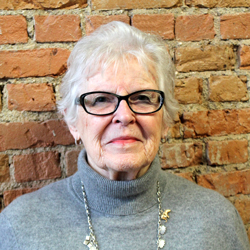 Founding Board Member, Board Chair, 1987-1993
What was the mood of the region like in the 1980s?
It was a very tough time. You could drive around the landscape and see buildings starting to be abandoned and things deteriorating. The interest rates were very high. A lot of people were going broke. Rural areas were in a financial crisis.
I've got to give credit to The McKnight Foundation because they had done most of their work in metropolitan areas and they had a lot of foresight in how to reach out to the Greater Minnesota Area.
What made you excited to be part of the Foundation in its early phase?
The thing I was most enthusiastic about was joining an organization that was just beginning. The planning, thinking, discussing of what this organization would be was good. Before that, I'd always been in an established organization. SMIF was very innovative, strategic, and interesting.
We were all thrilled to be part of something so new, creative and dynamic. And it's worked, largely because people are willing to invest time and energy.
What makes the Minnesota Initiative Foundations distinctive?
I think the Minnesota Initiative Foundaiton model is unique almost nationwide. I think it shows the vision of a foundation as wealthy as McKnight and how they had the vision to look beyond just urban. I think that could be attributed to Virginia McKnight Binger and Russ Ewald.
What was your vision and mission for the future of the organization?
We had a lot of wonderful opportunities to draw a lot of different parts of our region together. There's been a broader level of collaboration, (for example, providing child care). I think that's really, really important. There are such poor parts of our region that you just don't see very easily.
One of the things that McKnight did that was so wise with the loan program was structure it so that we weren't competing with the banks, but more filling the gaps and helping with technical assistance.
My compliments to the Foundation for their level of collaboration with other foundations and other organizations. I think that's just essential. Everyone needs to have some ownership in what's going on.
What excites you about the future of southern Minnesota? Why have you chosen to call this place home?
I think the quality of living [here in southern Minnesota] is just wonderful! We're pretty much pollution free, we have access to lots of resources. We get live-streaming opera at the theater here in Albert Lea. Last weekend I went to the Bolshoi ballet from Moscow for only $20. If I went in New York City, it'd be $75-150, plus you'd need opera glasses!
I think we're going to see the field of medicine become more dominant, as it's a growing industry. We're an aging population. I think there are a lot of resources for the aging. I think we have to be looking at employment opportunities for retirement-age people, not only for sustainability, but to tap into their knowledge and work ethic.
Why do you choose to continue to invest in the work of SMIF?
I've never been wealthy, but I've always offered whatever I can besides money. I believe in it enough to give even my little bit because it's so important to have a broad base of support. It's been a growth opportunity for me too, with fond memories.