First Executive Director, 1987-1993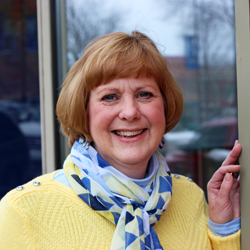 What did it feel like when you were tasked with running this new organization and how you went about prioritizing and mobilizing key players?
When I started, I knew nothing about foundation work. Had I known what I was getting into, I'm not sure if I would have had the courage to take the job. But ignorance at that point was probably bliss.
No one knew anything about how to be a foundation or what a foundation board does. We had to learn through doing. I had been a 4-H member, and so learning by doing was a life philosophy and a collaborative mindset of working together. The McKnight Foundation, with their philosophy of "we don't have the answers, you've got to figure this out," really carried forth in how we tried to portray what we were about to do. 
A few years in as we were starting to gather momentum we were charged with fundraising for the organization. Fundraising was a huge deal. We started asking local businesses for support. I remember very vividly: Jim Martineau, who was then head of Viracon, called me at home and said that they were going to donate $25,000. That was huge – I was just floating! Even today when I see a Viracon truck on the road, my heart still goes pitter-patter.
Then we started approaching counties and asking for a certain amount based on population. That was a totally new idea for them. They were all stretched for money, also. However, what McKnight's contribution enabled us to do was go in and show them what we'd already invested in grants or loans, and in order for this to continue, we needed them to contribute to leverage future funds from McKnight.
What were the biggest challenges?
The expectations of wanting things to happen right away were high. We were still trying to get on our feet while also getting money out the door to a region that really needed it. When you're starting a brand new organization, it doesn't happen that fast.
We had to develop everything from scratch: a grant application process, grant and loan application forms and reporting requirements, educate people about how to write a grant application, etc. People didn't know, since there were no foundations that served greater Minnesota. 
Times were different then. There was real concern from some that we shouldn't be funding child care centers because women should be home with their children – that's where we were as a country.
Another huge challenge was the distinct division between east and west. It was almost like bolting two repelling heads of a magnet together. There was really a lot of pushback and a feeling of "the other," but some strong voices and pressure from McKnight ultimately led us to focus on trying to create a unified region.
One of the quotes you put in a Foundation Executive Director address was from Don Coyhis: "We move toward and become like that which we think about." At the early stages of the organization what was your vision and what did you think the organization would grow into?"
My mission and vision was simply to survive. What I had to fall back on was McKnight's confidence that we could do it.
I had to convey that message that ordinary people can accomplish extraordinary things. We had to operate with a risk-taking mentality of trying new things. The plow was a wonderful symbol because we were breaking new ground, not only in how the organization ran, but in the types of projects that we would look at. We had to be open to new ideas.
It was also important that we become a recognized voice in the region that could cut across political boundaries and not have a political bent in terms of our stances on things.
What was something really unique that the Foundation accomplished while you were there that has had a lasting impact?
Forging a regional identity for the organization was an initial challenge, but I also think one of the biggest successes. SMIF is now looked at as a regional voice that crosses a lot of political boundaries and is a credible player. That's what we started off trying to do, and I can't take credit for that, but it's been a long process.
How would you describe the MIFs as compared to other foundations? What makes them distinctive?
The McKnight Foundation wasn't going to tell us how to accomplish the task at hand, which was one of the real strengths of how they set us up. Their trust in us was phenomenal. It was scary, but also enabled each of the MIFs to develop with their own personality.
On a more macro level, now being removed from southern Minnesota, but living a similar area of Wisconsin, what do you see as critical next steps for smaller, Midwest communities to remain not only viable places to live, but vibrant communities that attract newcomers?
First of all, you need jobs in the area. There's no question about that. Technology and good roads make this a very different world than it was 30 years ago. Good schools are going to make people want to come back. Not every community is going to have its own school – that's been a reality for a long time.
We need more deliberate transition of power and leadership. Younger people need to be groomed to take leadership positions. Communities need to develop a vision of what they want to be. You need to have your feet on the ground, but your head in the clouds. This is in line with Don Coyhis' quote about becoming like that which you think about. If you don't have any vision about what you want to be, you're going to flounder. It goes hand-in-hand with this deliberate transition of leadership. You have to involve those new people in helping to shape what your community is going to be.
Trails and access to parks is important, especially with a growing emphasis on health. Access to cultural activities is also needed to attract newcomers. It doesn't have to be the Guthrie, but local people have a chance to showcase their own buildings and talents, whatever it is - celebrate your little icons. We also need to develop affordable housing and make sure everyone has access to high-speed internet.
What did you take away from the experience that has influenced your subsequent career path?
I moved to River Falls in 1993, and no one knew about foundations. There weren't any serving our part of Wisconsin. As I look through my career, the theme that comes through over and over is startups. The Southeastern Minnesota Initiative Fund (first name), a grant-funded nutrition program, serving as the first Executive Director of the St. Croix Valley Foundation in Stillwater and other funds other this umbrella, River Falls Community Foundation, and most recently, I helped start a public Montessori school in River Falls.