Kevin Kelleher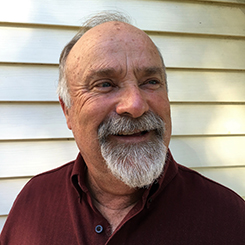 Kevin Kelleher served as Houston County commissioner from 1991-2006. In 2007, he was appointed southeast Minnesota's business development representative of the Minnesota Department of Employment and Economic Development (DEED). He had a leadership role at the Center for Rural Policy and Development, in which he was a founding member and board member for 10 years.
What led you into the rural economic development path?
When I was a county commissioner, it became apparent to me that we didn't have an Economic Development Authority or committee or anybody working on economic development. So I helped start an economic development group in Houston County. Through that process, I became aware of the importance of knowing how to use the resources you have, and how to maximize the use of those resources and how to attract more.
What attracts you to the work you do and why to you feel it's important?
I just believe in community service. I believe in our form of government. If everybody just put an hour a week into the better good, you would have less government.
Instead of complaining "we need less government," how about you get out there and do something about it? I'm a Vietnam combat veteran, and ever since coming back from the war, I've been working on that.
I keep going back to the 2007 floods (in and near Rushford), and it was so clear at that point when you have a devastated community that you need to help businesses. They are an integral piece in terms of providing employment and services, and so it reinforced the idea that economic development was an area that I had some skills, and I love this area, so it just made sense that I enter this field.
SMIF and DEED have a long partnership. Most recently, DEED funded our Prosperity Initiative to help minority-owned businesses.  How do you feel it was and is a mutually-beneficial relationship?
Unlike Region Nine, on SMIF's west region, the southeast side does not have a Regional Development Commission. They did about 30 years ago, but the county commissioners dissolved it because it wasn't fulfilling the needs it had. That opened a need that I think SMIF has begun to fill.  
In the case of the 2007 floods, where I worked closely with Tim and SMIF – I was the chair of the Minnesota Recovers task force, which includes the Federal and State agencies – we worked together very well there.
We provided them a substantial amount of money that helped SMIF helped flooded businesses get their doors open again. It was a great program, and one devised by SMIF. The money from the Federal government was even slower than the State's, so the beauty of the program was that it was so quick.
DEED provided a lot of the money for it, but more was raised locally, and it was right on top of the game when aid was needed most.
What do you feel are southern Minnesota's biggest assets?
In terms of southeast Minnesota, the diversification of assets is unbelievable. That is our biggest asset. There's farming, manufacturing, health care…we're really well diversified, and that has helped whether the downturn in agriculture and the downturn in technology and the downturn in housing/construction or whatever. When you're diversified, that really helps cushion against those impacts.
I think this last recession was a very good case in point. Southeast Minnesota did pretty well compared to other places that didn't have that same diversity of resources we have. It's also one of the most beautiful places, one that can support tourism. Some of that is natural and some of that is created, but it's something that you want to make sure stays that way.
What are the biggest economic development concerns that you encounter or foresee for our region?
The big concern is always "the kids are leaving," and have been for 100 years or more; that's the fact of the matter. If you look at Houston High School for example, the top 75% of each class has pretty much left the community. Some have returned, but not many. What that means is that leaves the 25 percent. I think we need to invest in that infrastructure for educating existing populace.
Also, I struggle with what is the platform to discuss heavy issues and listen to both sides, or multiple sides, rather. We have so many platforms now, that we can't find a place to really discuss something in a meaningful way. Where do you have a long-term discussion on economic development?
How do you think we were doing that effectively before?
Looking at recent studies of how people read, you learn they don't…they read the first and last paragraphs, but they don't often get to the middle. I've been through a few regional processes with SMIF, and they've all been good, but there isn't a lot to show for it. But that doesn't say you shouldn't do it anyway. I don't know what the alternative is. I still think that getting together and talking is the best way of doing it.
It's not just Millennials. Even within my generation, we suffer from the same thing. We're just not used to this much information. In that mind, we still have to have people-to-people. We have to engage face-to-face.
I thought the first Prosperity Initiative meeting was really good, because it allowed people to tell their stories. I thought that was great; it was such an education for me. That's not where I come from – I'm a white guy, I'm an old guy from a middle class background – so hearing what some people have to go through was very eye opening for me.
That's the sort of thing that needs to be done. When you look at prosperity and at some of those people in that room – some refugees, immigrants, people long underserved…I don't know where else you hear those things, and it's really too bad. When I speak to refugees, I'm absolutely stunned by what they've had to go through in life, and now they're trying to live the American Dream and how tough that is. Anyway, it's still all about bringing people together and sharing…there's no replacement for that.