Kendra Rasmusson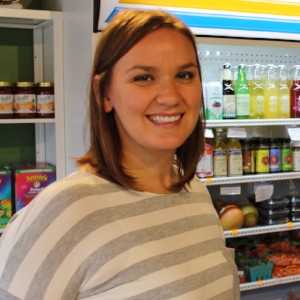 Where are you originally from?
My family is from the New Prague area - I actually grew up closer to St. Patrick. Most recently, my husband Paul and I were living in St. Louis Park, a suburb of Minneapolis. We lived there for four years, and that's where we started our family. Paul grew up in Roseville so he's always been a city guy until we moved back to my hometown.
What brought you back?
We were seeking a place with a stronger sense of community where we could raise their family.
We've been in New Prague for 4 years now and our family has continued to grow; our first - a daughter - is now 4, our son is 2 and our newest addition - a boy - is just 4 months old!
What prompted you to start Farmhouse Market?
The closing of Cedar Summit Farm (January 2015) caused us to start exploring if this was an opportunity to open our own local foods market. It was the only certified 100 percent grass-fed dairy producer in the state.
Also, our daughter had been diagnosed with epilepsy and we were exploring ways to wean her off medications through dietary changes, which some people with epilepsy have had success with. While she still takes some medications, we've focused more on the food we're eating as a family and she's been seizure free for more than a year and a half. Increasingly, people are thinking about where their food is coming from and what they're putting in their bodies
I'd always known that I'd be a small business owner; it was just a question of when. I have a background in marketing and communications. In October 2015, we took the plunge and opened Farmhouse Market in a 1890s building on New Prague's main street.
Farmhouse Market is not your typical grocery store. Could you tell us a little bit about how you came up with the model?
At first, we started thinking about opening a traditional grocery store that would carry local and organic produce, which, based on a marketing analysis survey, we knew there was a demand for. However, the survey also indicated that more than anything else, people wanted a store that offered convenient hours. After crunching the numbers, we knew we had to get creative if Farmhouse Market was going to be open hours that pleased everyone while still making any kind of profit.
Ultimately, we found inspiration from the 24/7 workout facility model. By creating a member-based store where all members receive a key fob – part of a system that also has security functions linked to my phone for easy surveillance when I'm not there – members can grocery shop whenever they need to.
We started out experimenting with only nine hours that are open to the non-member public. We were hoping to have 200 members in the first year, and we reached that goal within the first month. I could see this store model replicated in other rural communities, tailored to whatever the needs of that particular community are. Here, it was access to local and organic produce. Everywhere, though, convenience is important; people don't want to have to drive 20 miles for a natural foods store."
How was SMIF able to help you turn this idea into reality?
We got a loan from Southern Minnesota Initiative Foundation's Local Foods Loan Fund. In addition to receiving free business consulting from Scott County's Open to Business program, I also worked with SMIF's Business Special John Katz to set up QuickBooks to manage the cashflow and business relationships with the more than 15 local vendors we work with. Farmhouse Market has everything from local produce and dairy products to grass-fed meats and cheeses, all-natural health and beauty products, locally roasted coffee, and gluten-free flours and mixes. Members pay with credit or debit cards using a simple self-checkout system. If you can use an iPad, you can figure it out, but I also provides a help number should anyone need assistance.
In addition, Farmhouse Market has a second floor with a sunny community room. I can  envisions this as a flexible community space that members can use for things such as cookie exchanges, book clubs, art classes, a homeschooling network space, or a CSA drop-site.
What's next?
We'd LOVE to expand! In fact, we get weekly requests from around the world (no joke!) by people interested in duplicating what we're doing. Right now, we don't have the funds or expertise to figure out how to go about expanding our business model. So, for now, we're focusing on growing our current location and soon offering grocery delivery to our local rural senior population. We're dabbling with the idea of offering webinars or even an e-book on our business model to help share the work we've done to create this business model but in a way that can also provide revenue for our young business and family.
Farmhouse Market is located at 120 Main St. W. in New Prague. The store's public hours are noon to 3 pm Tuesdays; 3 to 6 pm Thursday, and 9 am to noon Saturdays. Membership is $99 for the first year and $20 annually to renew. Members have 24/7 access to Farmhouse Market, including the community room (with WiFi), 5 percent off purchases, and 10 percent off bulk purchases.
To learn more about the market, including a listing of all local vendors and to purchase membership, visit their website at www.farmhousemarketnp.com.