Founding Board member (1986-1992) and Board Chair, Donors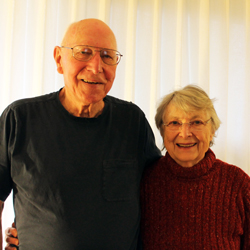 Ken Albrecht was the Foundation's first Board Chair, and was interviewed with his wife, Jan. We talked with Ken and Jan a week before she passed away. She was an asset to the Mankato area and to our region and will be greatly missed. 
Do you recall some of the early challenges to getting the Foundation off the ground?
We made the mistakes early when it was easy and cheap. We learned from them, as did the other Minnesota Initiative Foundations. We all learned from each other. It was very good to have McKnight as a partner. They provided a lot of trainings early on, as no one knew what a foundation was.
What inspired you all as the first Board members to keep moving forward?
Helping deserving people in the area receive resources that hadn't been available previously was a highlight. McKnight was also very open to learning; they didn't know everything, either, but they did have a lot of money. Most of the loans and the grants that we made were successful.
What do you think made the Minnesota Initiative Foundation work, and distinctive from other foundations?
One of the things that made them so successful was being able to work together. We came together many times for trainings and to learn from each other. Also, there was a need for them. A lot of people don't know what they need. McKnight helped us become aware of what we needed to do.
Why have you chosen to call this place home?
It's got a nice climate, good schools, is a good place to live. We have a lot of resources here. We had a hobby farm and hired a lot of schoolkids, and had a lot of fun along the way. Out here, we're "glued to the ground." We're going to stay here as long as possible.
What excites you about the future of southern Minnesota?
Many challenges lie ahead: changes in agricultural practices, manufacturing and businesses. My advice: Hang in there! There's a lot of stuff that needs to be done. But, it's a good place to live.
Why do you and Jan choose to continue to invest in the work of SMIF?
We invest because we want to see the region prosper. Look at Madelia, and what the Foundation was able to do there. That's an important role.