Jan Joannides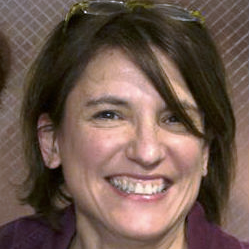 Jan Joannides is the Executive Director of Renewing the Countryside (RTC). RTC received a $100,000 One Big Thing Grant from SMIF in 2013, following a collaborative study showing that southern Minnesota's economy would benefit from a more targeting investment in growing a local foods system. Since then, RTC has been a major partner in SMIF's local foods work through the FEAST Local Foods Network.
What is the "elevator speech" you give for RTC?
It has changed over the years. When we started RTC, we were really telling stories of people who were renewing the countryside. There were all these great examples of artists and entrepreneurs and farmers who were doing all these really innovative things in their communities. We wanted to showcase them and showcase what they were doing, that this is the type of countryside we'd like to see.
Over time, we've kept doing that to some extent, but also adapted our mission to reach those people who want to be renewing the countryside but need support. So, we end up doing support-related things, whether that's technical assistance or marketing or connecting people to other resources…the common theme is that all of this is helping to build vibrant, sustainable rural communities.
A lot of times that includes serving as a rural-urban connection. We see that as important because for rural communities to do well. Urban centers need to understand the value that rural communities bring.
I'm glad you brought that up, because one questions I often think about is how do we do a better job of communicating the "rural impact" to urban areas, and vice versa. Clearly, post-election, we can see that across the country, there is a deeper rural-urban divide than perhaps we realized before.
There are a couple things that I go back to; one being the fact that 20 percent of the population lives in rural areas, but 80 percent of the land is rural. So, if you think about how dependent we are on our resources, whether our agricultural land or water or clean air, rural areas are a major piece of what our country is. Rural people end up having the opportunity to be on the ground seeing how these resources are being taken care of and used.
For a long time, we've been extractive from our rural communities, extracting minerals, wood from forests, talent…I think we need to balance that process a little better and make sure that we're putting some things back into rural areas.
Part of the reason I think food has worked so well as an approach to bridging urban and rural is that food is something people get. They want to be more connected to their food system. So even though some day more food will be produced in urban skyscrapers, ultimately, most of it will continue to come from rural areas and places where the land isn't so valuable.
How do you measure RTC's programming for success? What issues are you trying to "move the needle" on?
In general, we're trying to move the needle so that more rural areas and small and mid-sized towns have a better quality of life. It's hard to measure something like that, so we end up having more focused program areas where we can measure things.
For example, with some of the innovative financing stuff, like with Slow Money or the FEAST Network, that's all trying to improve the viability of small and mid-sized businesses, which is something you can see more. I think it can be confusing to people, because we're a small organization but we're looking at these much larger systems and where there are problems. We're trying to fix those problems so we have more equitable, vibrant communities. We scan and do research and find things that other people are thinking about or already working on, and also areas where we have the expertise and ability to make a difference.
RTC has been an important partner of SMIF; in fact, our $100K grant to you in 2013 really helped us deepen our local foods work. How do you feel the two organizational mutually benefit from this collaboration?
I was really pleased that SMIF was open to having us do that. It made a lot of sense for RTC to be the one who we take the lead on the Feast! stuff. It made a world of difference to us, organizationally, to be able to focus in on local foods in this region. It afforded me personally a way to engage in this region that I care about.
In addition to the dollars associated with the One Big Thing – which is important because we have staff we have to pay – the connection that SMIF has, with SBA, SBDCs, Mayo and others – we were afforded a certain level of legitimacy in this region where we had done some work, but were relatively unknown to other entities.
At the same time, we were able to bring our long history of working in agriculture and farming to the Foundation, which was a newer thing for SMIF outside of some loans in the area. We were able to share that expertise and bring our own connections with people who we already worked with, both individuals and organizations.
Is there a particular success story you're most proud of or tell most frequently?
We weren't planning on becoming an organization. In 2001, we published the "Minnesota Renewing the Countryside" book of stories (and officially became an organization in 2002). Becky Laurie was running for governor in Minnesota, and she had a copy of this that she would bring with her and say "these are the sorts of things we need to be seeing more of in our state."
The people I interviewed for the book and for my master's project, which played into it, many of them felt very lonely in their communities and kind of weird. I mean, they were pioneers in a way, and on the cutting edge of things, and so often thought of as the "odd" people. For example, back then, people getting onboard with wind energy were very progressive and "fringe people." It was really a question of whether we could collect these stories in a way that gives the whole movement toward more sustainable communities more authenticity.
What are the biggest economic development concerns that you encounter or foresee for our region?
One is the separation between the very wealthy and everyone else. Even when I look at the numbers for Wabasha County – which is doing fairly well compared to some parts of the state – there is a growing divide. I'm glad SMIF has the Prosperity Initiative going on, because I think that's part of it: how do you help people who are at the lower end of the spectrum move up.
That's one of the things I'm really excited about with the Grow a Farmer Fund: how do you get people who have more than they need – often times more than they know what to do with – to invest back into places that could really use it, and at the same time, make things they would like to consume or places they would like to come visit?
Why have you chosen to live and work in southern Minnesota? What about your work inspires you to keep doing what you do?
It's really rewarding work in a lot of ways, because I get to work with small communities, entrepreneurs, farmers, at farmers markets, and people who are passionate about food. The people I work with and who are doing the things they do, they really care about it. I think that's something that makes is very compelling to want to work in this area.
When we're at the State Fair, we'll have people stop by our booth and really love what we're doing, but they're stuck in corporate jobs they aren't very happy with because it doesn't have much meaning. I think the work we do is very meaningful and what keeps me doing it.
Any last thoughts?
I think in some ways we're at a really exciting time. There is some really exciting stuff coming out of the University of Minnesota, such as their Forever Green Initiative, which is trying to change the agricultural landscape in a way that's good for both farmers and the environment. There's a lot going on in the innovative financing world, as well as with Destination Medical Center and how that's going to impact the rest of the state.
My hope is that we can figure out ways to take those positive things and not get bogged down by the negative things. People seem to be so bogged down with politics and one side vs. the other, but I think there's a lot of hope out there. Things like Forever Green are a game changer, beyond just "let's tweak this small thing;" it's more like "let's find a new crop that has a better environmental footprint."
What I found in this work, since working with SMIF, you are such an important anchor in the region. I often send people to SMIF or one of the other MIFs, and I start seeing ideas of "oh, the Initiative Foundation should be involved in this!"
I'm so grateful to McKnight Foundation, because I think we're so fortunate to have the Initiative Foundations in Greater Minnesota. I think every other region in the country would like to have this type of thing because it's just not there.