Heidi Hagel-Braid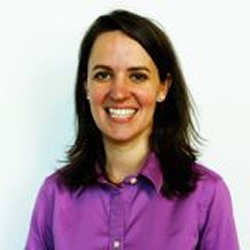 Heidi Hagel-Braid is the Regional Director for MN & the Dakotas for First Children's Finance. First Children's Finance received SMIF's first One Big Thing Grant in 2012, which launched SMIF's Quality Child Care Program.
What is the "elevator speech" you give for First Children's Finance?
We work on the business side of child care and early education. Folks get into this sector because of their love of children, not because they're CEOs or entrepreneurs. But, in fact, those are the skill sets that they need to be able to run great businesses that also serve children and their families.
At First Children's Finance, our mission statement is really centered around the idea of creating access for low- and moderate-income kids to quality child care and early education. We know that that is such a strong indication of community vitality, to healthy families, and overall, so critical.
How do you measure your programming for success? What issues are you trying to "move the needle" on?
What we're really trying to do is build the capacity of family child care businesses to operate effectively and efficiently so they have a profit, are able to operate high-quality programs. But other contributing factors to that are creating access to capital and to help decision makers and policy makers understand what kind of public investments need to be made to contribute to those profitable businesses so we have sustainable child care businesses.
Recently we've been doing data collection inside child care programs. There are 9,000 of them in Minnesota alone. One of the things we could tell people after studying 43 of these businesses is that on average, they were making less than $8/hour. Are the policies trickling down to those businesses, how, and what impact are they having? So it's more than just providing our technical assistance and training, but involving policy sector partners in this work to talk about how can we better support these business? How do we make it worth their while to enroll in Parent Aware, the state quality rating system? We're trying to move the needle on that.
The other focus of our work is really helping communities understand what they can do on child care challenges. 
There's a direct connection between child care and economic development. Cities and small towns across Minnesota, communities are getting it: child care is part of the economic development puzzle.
That's why young families stay in communities, it's how they're able to buy homes, to have jobs, to enroll in the local school…it's because they have access to high-quality care. We're trying to move the needle not only on their understanding of that, but on the development of right-sized solutions that are community-based.
As a result, we're seeing the public sector and lenders get involved. That's where our involvement with SMIF has been just so incredible. They have helped us frame opportunities to be able to have those types of conversations all across southern Minnesota. They have blended a dual focus on early education and entrepreneurship. It falls directly into the lap of why rural communities need to care about child care.
How have you already seen the needle move in the field of early childhood development? What role do you think First Children's Finance, SMIF and the other Minnesota Initiative Foundations have played in that?
First Children's Finance, SMIF, the other MIFs were part of a movement that brought awareness to the importance of quality child care in rural communities that has brought new funding opportunities – there's an RFP out from DEED right now – that resulted from us reaching out to places like DEED about the issue.
We're now talking about early childhood education as a viable economic development strategy, where I don't think we were seeing that even 3-5 years ago.
Along with that, we've seen an evolution of providers. 20 years ago, they didn't talk about or promote what they did; they were like "oh yeah, I watch some kids, it's no big deal." Now, they talk about themselves as business owners and as entrepreneurs. I'm seeing providers stand a little taller and that's really amazing. That's just as important to me as seeing policy and state agencies having awareness.
First Children's Finance has long been a partner of SMIF through our early childhood programing. How do you feel the two organizational mutually benefit from this collaboration?
SMIF has helped to frame this conversation around your region. I came to First Children's Finance almost four years ago and stepped into a One Big Thing Grant. That was my first exposure to their early childhood work. The Quality Child Care Program (QCCP) project that came out of that One Big Thing SMIF grant really shaped and changed everything for both of our organizations. It led to our focus on rural communities and addressing these small town's issues around early childhood.
The thing I've always appreciated, particularly about SMIF is that they are tolerant of risk and fostering innovation. SMIF has always been an investor in calculated risk. The payoff from that is really being able to move the needle in some of these areas.
From top to bottom, SMIF has really embraced the idea of early childhood education and understand that it's linked to community development. This model is not replicated anywhere else in the state top-to-bottom.
What do you think we should be thinking about regarding the future of early childhood education and care in rural southern Minnesota?
It's going to be important for us to really maintain a commitment to quality. We have certainly been immersed in that work, as well as SMIF, but to help rural communities understand the power of investment in early childhood, including quality child care – there's still much work to be done there.
As we look forward to opportunities that present themselves, like universal preschool, it's important to understand the values of rural communities and develop solutions that keep those values inherent.
Here's what rural communities are really great at: solving their own issues and the beauty of working with them is that when someone walks into a room, they have seven invisible hats that they also wear. They are nimble and flexible and experts unto themselves, and if you give them the right tools and resources, they can formulate solutions that solve issues.
So, as we continue to encounter challenges across Minnesota related to early childhood education and the necessary investments and infrastructure and low-income access, we still have to think about how rural communities can be part of those solutions, because a one-size-fits-all solution is limiting. There is so much potential, so we really have to take what is working in our communities and expand that or identify the gaps and look for strategies to fill them. In order for that to be sustainable and successful in rural communities, it has to come from the ground up and take those values into account.  It's really important for us to develop community-based solutions that are sustainable.
What are the biggest concerns related to early childhood care in Minnesota that you encounter or foresee?
One other big challenge that is looming large, and we're not talking about it enough yet: the fact that the child care provider population is aging rapidly in Minnesota. We are not attracting Millennial providers at the rate we needed to replace those who are retiring.
This is a big problem that we need to find solutions to. Millennials are looking for different things out of their careers. If we're going to attract them to the early childhood care, we need to look for flexible options in developing leaders and professionals in a way that we have not been able to do thus fa
We are asking providers to work 12 hours a day in isolation for very low pay. That has to change. Those workforce compensation issues really need to be addressed through policy. We really, really have to figure that out because we've already drawn the link between access to care and our economy, and if that supply starts to dwindle, we know what the ramifications are.
How do we get this sense of urgency across? 
It's not that tough! It's not that hard. It is a complicated problem, but the answer is, we need people to feel that the jobs they have in the field are impactful, that is meaningful work. Next, we need them to feel like they have a livable wage.
People want meaningful work that pays the bills. But we need them to not be eligible for welfare programs while working full time. That's not okay.