Partner Spotlight: First Children's Finance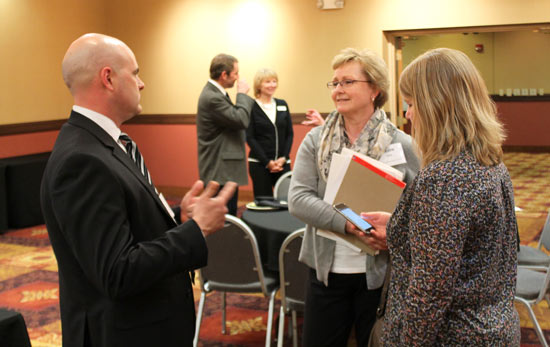 Rural Child Care Innovation Program: A conversation with First Children's Finance
"When you think about the work that providers are doing, it is the most critical work: raising our children impacts our entire economic system. It impacts all our future employees and leaders." - Gertrude Matemba-Mutasa, Director of Minnesota & FCF Impact Investing 
At Southern Minnesota Initiative Foundation (SMIF), we're increasingly assisting communities with issues on the child care shortage. Oftentimes we connect them to our collaborative partner, First Children's Finance. First Children's Finance provides loans and business-development assistance to high-quality child care businesses serving low- and moderate-income families.
In response to a growing shortage of child care slots and more Minnesota communities recognizing the economic development consequences, First Children's Finance expanded what had been the Greater Than MN Project into the Rural Child Care Innovation Program (RCCIP). "Rural Child Care Innovation Program is an intensive, community-led engagement process," said Jeff Andrews, Business Development Specialist with First Children's Finance. "We had over 20 communities apply this past spring, but we only had the capacity to take on four. Two of those are in SMIF's region: Sibley County and Austin."
The Process
First Children's Finance works with selected RCCIP communities across two years. First, they complete a supply and demand analysis, focusing specifically on child care availability for children age 5 or below. They talk with existing child care providers to get a sense for what they see as needs, what they need for support and what their thoughts are on the overall child care shortage. They then work with a core team of leaders from various sectors to education them on the importance of early childhood, taking an economic development perspective. "What we're trying to do when we talk about doing this work is to underscore that when parents are not able to access affordable, convenient child care, it impacts employers locally," said Gertrude Matemba-Mutasa, Director of Minnesota & FCF Impact Investing.
"In a normal marketplace, when there's more demand than supply, someone creates more supply," said Andrews. "That doesn't necessarily occur in child care. We're trying to help these communities understand the 'why' behind the child care shortage."
All of this work culminates in a town hall meeting where they bring together the broader community to report on their findings, address the "why," establish top priorities, and share case studies from around the state on what others are doing. "The knee-jerk reaction is often to think 'we need to build a center,'" said Andrews. "In some scenarios, that might be the correct option. However, in other cases, the best option may be supporting existing family child care providers, eliciting support from the business community for training dollars…there's a lot of different things that can be done to support the overall child care needs in the community."
Once priorities and action items are set, the core team gets to work! "Our goal then is to look at things like subsidies or licensing and to roll up our sleeves to tackle one issue at a time," said Matemba-Mutasa. "It's a long-term approach because we know from research and from work we've done in the past that long-term engagement is the only way we're going to be able to have any meaningful impact."
More Than a "Women's Issue"
Both Andrews and Matemba-Mutasa are noticing a change in the conversation. "This has been a 'women's issue,' and you know what has historically happened with women's issues...they're sort of ignored, and they're not as important," said Matemba-Mutasa. "Yet when you think about the work that providers are doing, it is the most critical work: raising our children impacts our entire economic system. It impacts all our future employees and leaders. And yet we don't want to invest anything. We want to just give the scraps or some token amount of money to scratch the surface instead of really digging in and doing something that's meaningful."
However, Matemba-Mutasa says she's noticing a new momentum. "I'm encouraged because I think many people are starting to think of it from a systems perspective," she said. "People are finally starting to think about multi-prong approaches, instead of just tax credits or just scholarships."
How To Work With First Children's Finance
First Children's Finance is expecting to start accepting new applications in the next six months for what they call the "A to Z," 24-month process. However, they also work with communities across the state that may be further along in the conversation to move them toward their goals.
"Overall, we feel really good about the progress we're making," said Matemba-Mutasa. "Within the next 12-18 months we'll have some numbers to share in terms of the slots we've created, jobs and businesses that we're launching, and the overall impact for RCCIP."
Interested communities can reach out to First Children's Finance directly at http://www.firstchildrensfinance.org/contact-us/staff/.