14 Local Food Businesses Get a "Smart Start"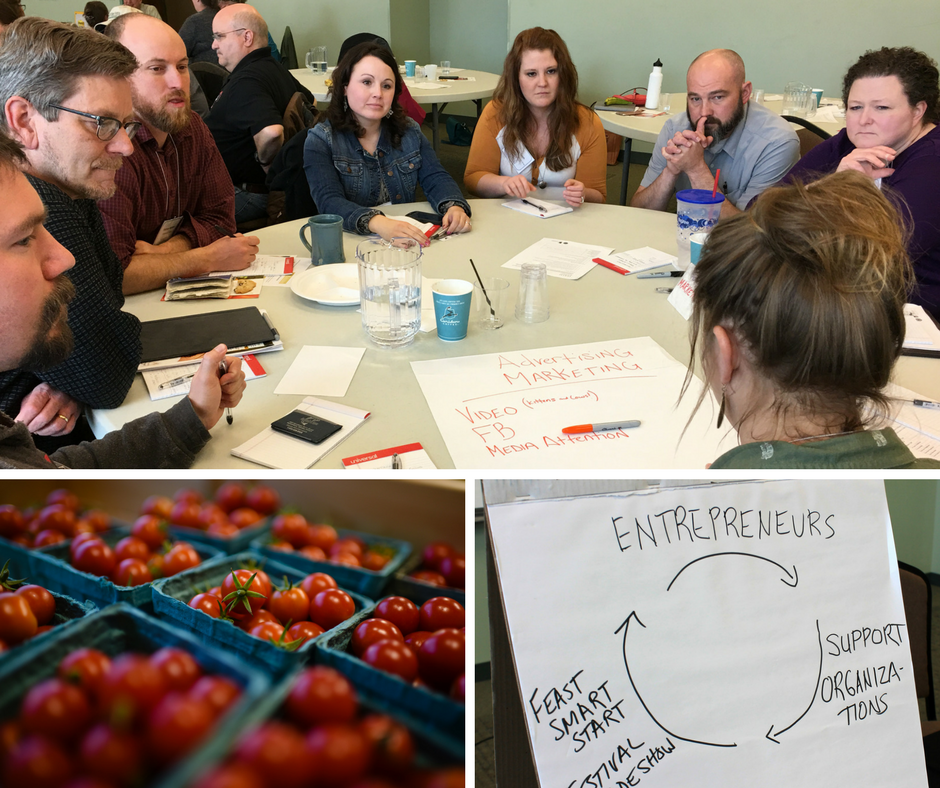 April 12, Owatonna, MINN. – Thanks to funds provided by the Minnesota Department of Agriculture (MDA), 14 local food businesses will get to jump start their company through Feast! Smart Start Initiative. This new program designed by Southern Minnesota Initiative Foundation (SMIF), in partnership with Renewing the Countryside, will give individuals advanced business training beginning in April. By June, local business coaches will be placed in 10 businesses to give them specialized support and one-on-one assistance through December 2017.
Nearly 50 food and beverage entrepreneurs from SMIF's 20-county region attended the Feast! Smart Start Initiative kick-off held in Owatonna on March 26. Attendees included Feast! Local Foods Marketplace exhibitors, SMIF Local Food Peer Network participants and MDA Value-Added Producer Grant recipients from within SMIF's 20 counties. 
Emily Knudsen, owner of Pleasant Grove Pizza Farm near Waseca, is one of the food entrepreneurs selected for the Smart Start initiative. "I'm so stoked to work with a business coach!" said Knudsen. "As a new entrepreneur, I'm looking forward to going more in-depth on things like bookkeeping, budgeting and long-term strategy…right now I feel like we're sometimes just flying by the seat of our pants!"
The FEAST Local Food Network is a collaborative network focused on developing a robust local food infrastructure and educating people about the importance of buying local. The group annually hosts the Feast! Local Food Marketplace in Rochester, which is scheduled for December 1-2, 2017.
"Many of the FEAST Local Food Network partners came together over four years ago to figure out how to utilize the demand for local food to grow our regional economy" said SMIF's Vice President of Economic Development Pam Bishop. "The Smart Start initiative is an exciting opportunity to do just that by making sure these entrepreneurs have the support they need."
Selected Feast! Smart Start companies include:
U.S. Small Business Administration funds will also be used to support this program. For more information on the Feast! Smart Start Initiative, contact Pam Bishop at pamb@smifoundation.org or 507-455-3215.
About FEAST Local Food Network
The FEAST Local Foods Network is a collaborative network across Minnesota, Iowa and Wisconsin of local foods advocates. The FEAST Network organizes the annual Feast! Local Foods Marketplace. Partners include Renewing the Countryside, Region Nine Development Commission, Southern Minnesota Initiative Foundation, University of Minnesota Southeast Regional Sustainable Development Partnership, The McKnight Foundation, Minnesota Department of Agriculture, Mayo Clinic and People's Food Co-op. The network was created to support local food producers and foodmakers by boosting access to financing, resources, and peer-to-peer learning opportunities. Visit www.local-feast.org. 

About Renewing the Countryside
Renewing the Countryside works to bring inspiration, ideas, resources and assistance to those looking for sustainable ways to strengthen their rural communities. For nearly 15 years, they have done this through public education, economic development initiatives and technical assistance. Their main constituencies are current and aspiring sustainable business owners, farmland owners, and the general public. Visit www.renewingthecountryside.org.

About Southern Minnesota Initiative Foundation
Southern Minnesota Initiative Foundation (SMIF), a donor-supported foundation, invests for economic growth in the 20 counties of south central and southeastern Minnesota. The Foundation has provided more than $100 million in grants, loans and programming within the region during the past 30 years. SMIF's key interests include early childhood, community and economic development. To learn more about our work and mission, visit www.smifoundation.org.