Fatima Said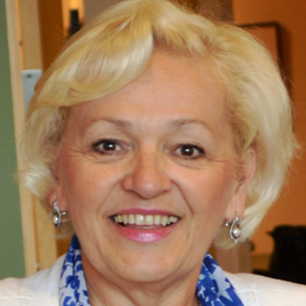 Fatima Said is the Executive Director of Project FINE, a nonprofit who helps refugees and new immigrants transition into Minnesota. In this conversation, Fatima discusses why immigrants are an asset to our region and how we can work to make sure our newest residents are included.  
Where do you hail from originally? What was it like, being a refugee yourself, coming to this country?
My husband and I are from Bosnia. Before the war started, as a doctor and teacher, we had pretty good lives. We were young professionals, on top of the world, you know. Academically very high, we had great friends around us, and overnight, just overnight, we had nothing. People came in our house and gave us 24 hours to leave.
People were chased out. All of us that survived that dirty, ugly war are still here, but 200,000 people died for nothing. When you look, nobody gained anything from this war. There is hate and no prosperity. They destroyed lives and beauty.
When you've been through that, you learn so much about what truly matters: people around you. Everything else comes and goes. When I first came, I saw people in the airport with a basket of fruit, with flowers, with signs in my language, all there to welcome me. From that second, when I realized there were people here who work hard and yet want to help me, just like back home, from that moment until I stop breathing, I will appreciate this country, those people and their kindness. I truly felt like I could open my bags and start over again.
What led you to your position with Project FINE? What attracts you to the work you do/why to you feel it's important?
I started at Project FINE in 2005. Relationships are very important to me. I tried to build those, nurture those, and follow up. I keep people informed on what we're doing, ask what we can do for them. We are really working with almost everyone, and that helps. We are always invited. I personally take that as a compliment.
Our roadmap is collaboration, partnership, sharing stories, because then you are in business like we are. No one has to work with us; it's a choice.
As you know, my personal life story inspires me to do more and more to give back to what I received in the beginning. I would not be where I am today if I did not have great support from the Rochester community, from Assisi Heights, nuns and churches and many others. My personal and professional passion is to give that to others, to give that little portion to help them go and succeed and feel at home.
Language is a big barrier, but not the biggest. You have culture. The Hmongs are culturally a very quiet culture who will never come forward on their own. But they have so much wisdom. I can't tell you how much I learn through my work with other cultures and how much I'm better because of it.
I knew so little before I came here; where I came from, we were all the same. I'm so grateful for all I've learned. I keep moving forward, because when you have option to be depressed and do nothing or roll your sleeves and provide for children, we choose the latter, starting from zero. It wasn't easy. It took my husband nine years to get back to the medical field. But, we had the opportunity. That's why people are here. We have a great economy here. People want those manufacturing jobs.
I probably will do this for the rest of my life because I truly believe there is no bigger thing you can do as a human being than help others. I often say to my friends to pray always to be in a position to give and never to need. It is extremely hard to take help, even when you have to. There are not many that will choose that as a lifestyle.
SMIF and Project FINE have a long partnership. How do you feel SMIF supports the mission of Project FINE?
SMIF has been an amazing partner to us. They invested in us in many different programs that made a huge difference and impact in our community. I'm always grateful for that relationship. Not only did SMIF invest money, but other resources. They are always willing to answer the questions and work with us. Being a small nonprofit, without people really believing in us and our mission, we wouldn't be able to move forward. We don't have any state or federal money, not a penny. We heavily depend on private foundations and donations and fees for services.
SMIF has been very supportive of inclusion and diversity and business approach to refugee business support. We would not be able to do what we have without all of that investment from SMIF.
What are some of the biggest misconceptions that you encounter about your work or about people's perceptions about immigrants? How do we communicate the value that diversity brings to our communities? What is the benefit to everyone of being welcoming to all?
We've been working on a building leadership group for immigrants and refugees for things like civic engagement. Being a refugee myself, I certainly understand how hard it is to step into that role and join boards and committees because you're not sure in your language, or that people will care what you say, how policies and procedures operate and you kind of put that on the side.
Second, refugees and immigrants have so much on their plates. There are so many different needs and they're establishing a new life. There are three stages of refugee and immigrants' lives: first is survival. You need safety for your children, food on the table, a roof over your head. Second stage is building refugee and immigrant capacity. In this stage, Project FINE as well as others invest a lot of time and other resources giving information about jobs, schools, housing, healthcare. The third stage, which is my favorite, is what I call building successes and supporting stability. After they've been here for a while working with a stable housing situation and have saved some money, they'll again come back to Project FINE and say "I've saved some money, I can now buy a car," so we provide them with information on how to get a license, how to go to the bank.
In all of these three stages, they don't think about boards or committees, and we really want them to start participating. It's not that they don't have things to share. People come with a lot of good ideas. We should be welcoming and take those ideas. That's why we're doing diversity trainings with businesses, showing them how much they're missing.
First of all, they're not just immigrants and refugees. They are your customers and your neighbors. But, there is that gap between really understanding each other, and that's a big gap that we have to face, to educate businesses and the receiving community. Maybe they change when they have their meetings, and really listening, changing their environment with more welcoming signs so that people do feel like they really want to be heard.
To be honest with you, we do have great communities. In St. Charles, which has a large Mexican population, the superintendent was coming to our events encouraging people to apply for the school board. That was like music to my ears!
People really want to give back to their community, they just don't know how. If you don't reach out, many of them won't come forward. We do need to open up and say "we're happy you're here, what can we do?"
We are now post-election. What do we need to be doing in our southern Minnesota region to be more welcoming to new and existing immigrant populations, but also to explain the benefit of welcoming "the other"?
I see this as an opportunity to work even harder, really building bridges between people, building relationships so people can see that every immigrant group has had there own challenges and misunderstandings.
I just hope that, being the 21st center of globalization and open borders, that people will realize that there is no other way than working with each other. We are the best country that exists in the world, in terms of our constitution and having the right to participate. I respect democracy, so I will accept the majority decision and move forward.
In my community, I see a new opportunity to build community. There are many ways to support our country. My role now is to serve my country by building relationships here and creating positive messages about refugees and immigrants and why we need these people here.
None of us know if we're going to wake up tomorrow morning. Why be miserable today? I truly believe that only by sharing kindness and goodwill is the only way forward. What are our other options?