Bill Davis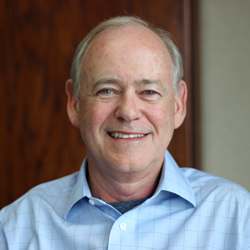 Bill Davis was one of SMIF's first loan clients, receiving a matching loan from the Foundation in 1991 for Osborn Medical Corporation. He went on to become a Board member and chair, and is currently still involved through SMIF's loan and equity committees.
What led to the creation of Osborn Medical Corporation? How has it evolved?
It was started in 1987 by the family of Julie Osborn Rooke. She and her husband Tom Osborn had the idea for the company, and I was their advisor through my role with the Rochester SBDC and RAEDI.
When Julie and Tom asked if I wanted to get involved with their company, I said "Sure, sounds like fun." We ran it out of the incubator I'd help RAEDI establish for the first year and eventually we moved it to a place I had purchased in Utica because it was so much cheaper and only 25 miles east of Rochester. I officially took over in 1991, and this month is my 25th year owning the company. We now have about 18 employees and two locations: Rochester and Denver, where some of my kids are who are working for the company.
When Osborn was looking at getting out, my role was to help them find someone. My father said "why don't you buy it yourself?" and I said "Well, I don't have any money." He said, "That's never stopped you before." So, that was my great advice from my dad. I went and talked to my friend Tom at the bank, and he said they'd be interested if SMIF would be willing to participate.
What led you to pursue a loan through the Foundation? What was the growth curve of the company?
Of course it all started with "I'll try it out for a little bit and see how it goes." I did that with a loan from the Foundation. Rae Jean Hansen was my loan advisor on the case. It was a small loan, matched with a loan from Merchants Bank in St. Charles. I'd known about the loan program from my work at RAEDI and the SBDC.
While it didn't start as a passion for medical devices – I am an accountant – it has become that. I'm highly involved in medical devices and products. We have a spin-off company and have developed some diagnostics products for both the Mayo and Cleveland Clinics.
I never would have thought we'd be where we are now: nearly 30 years as a company, with 6-8 patents, and we basically sold the same thing as we've always sold, just expanded it, and we're still growing.
Why have you chosen to stay in southern Minnesota?
It was a really good place to raise kids. The small school districts in Minnesota are pretty successful. My wife actually worked for them for her entire career. Plus, I really like the culture of Minnesota. I think that I couldn't do what I've done in that many other places. I'm questioning what's going to happen with my children as they have children. In Minnesota, you can live in a less metro environment – even the Twin Cities are less metro than places like Denver – and have a better lifestyle.
I don't completely buy into to the whole "Minnesota nice thing" – people are great everywhere; I've done a lot of travelling, and there's no place I don't like to go. But the upper Midwest and upper plains are really difficult places to live. It's pretty miserable weather-wise most of the time, yet  when you ask why I've stayed in Minnesota, it has nothing to do with the weather. In fact, as kids, if you look back to your childhood, do you ever look back as weather as something that bothered you? No, you just put on your winter clothes and go out in play in the snow.
As people are thinking about raising children, this 20-county region is really unique. I think it's got lots going for it. It has economic opportunities, people can have decent jobs, and can raise their families, send them to good schools and not worry about too much. The one-on-one with teachers that we have at our small schools is so great.
You have been a long time donor of the Foundation. What led you to want to support the work of SMIF?
It's helped me personally and professionally to be involved in the Foundation. There's a selfishness about it; I've gained so much. I've met many people that I've gone on to do business with – bankers, lawyers, accountants. I just find it highly valuable to know people throughout the region. That's one of the reasons I don't really want to leave.
My reason for contributing back to the Foundation is that it's given me a lot. I felt an obligation, almost, to give back, and I feel good about it. People give to hospitals and to churches, and how do you capture that last 5%? I think that people like myself who grew a business with some assistance with places like SMIF have a natural rebound effect. We've done that a lot – over 550 loans. People are going to remember who stood up for them when no one else would.
Future of small towns, what's necessary to remain vital?
Main street is changing in lots of places, not just in small communities. I think there are some very specific things state taxing authorities can do. I think that commercial property and sales taxes have to change. I think that income taxes should be a bigger function of taxation and that would keep all of our communities more viable. If the landlord makes all the money, it's just not going to work. The landlord makes all of that money because taxes are so high. Not to get political, but there does have to be some tax reform.
In these small communities, everybody commutes. I don't think that's going to change, nor do I think it should change. If there's a viable job 20-30 minutes away, you should be able to drive to that job. So, continuing to work on the Highway 14 project is a good idea, I think all of these road projects are good. I don't think you're going to get a factory in every town. Mayo is the largest employer in every county touching Olmsted County, so people have to be able to commute to work. The problem with towns surrounding then, is they don't have the necessary tax base. Some small towns lose out because of tax issues.  
I think internet is important. Our little town of Utica has fiber-optics through HBC. We have the fastest internet you can get – they can't deliver less than 50 megabites. They're only able to do fiber optics in towns that weren't wired before and don't have any competition. We have to dumb down our television to handle the internet speed.
Keeping the schools strong. If we hadn't had a local school to send our kids to, we wouldn't have been able to go into Rochester every day.