Betty Uehling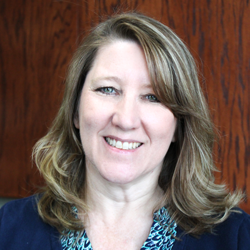 Betty Uehling is the ECFE Director at New Ulm Public Schools. She has been heavily involved in a lot of our Brown County early childhood work, including the Brown County Early Childhood Initiative, Early Childhood Dental Network, book grants, PreK to Grade 3 Alignment and the AmeriCorps LEAP program.
Where do you call home? How long have you been a southern Minnesota resident for?
I'm from Esko, a little town outside of Duluth. I've been in Brown County for about 26 years, always with the New Ulm ECFE program. My husband got a job in Mankato, and I started working in Mankato, and after teaching in New Ulm for a year and a half, I took over the ECFE program
What led you into the field of early childhood education?
I just love seeing kids in that infant to PreK age light up when they learn something new. There's nothing better than that. Everything is new and exciting and fun. You can be a kid right along with them. That's just always so much fun. Things just keep falling into place.
You've been involved in SMIF in a variety of ways. What was your first experience working with the Foundation?
It may have been one of the BookStart grants. SMIF has just always been a partner around the table. It's hard to think of a time when SMIF wasn't here. It's just like my right arm, SMIF is always here supporting the programs, community and the region.
What were the outcomes of the Brown County Early Childhood Initiative (ECI)? How does it continue to shape how you collaborate as a county on early childhood issues?
It pulled in a lot of players around the table why may not typically be around the table just to start those conversations. It's great getting some different perspectives from law enforcement and from clergy, because a lot of time we talk to the same people. The ECI process brought in different people.
Some of the key things we looked at were early childhood mental health, literacy, supportive child care providers – all things which even years later are still key components of our program, of SMIF…key pieces where there are always needs. 
What do you think we should be thinking about regarding the future of early childhood education and care in rural southern Minnesota?
I see more emphasis being placed on the four year-old. My greatest fear for the future is for the home child care providers. They are the bread and butter of our community. As more of the four year-olds go to the school programs to help them get ready for kindergarten and school success, we're pulling that income source from home providers so they can't afford to stay in business and  parents can't go to work because they can't find care providers; it just becomes this vicious cycle. That's my biggest worry right now: how can we support the child care providers? How can they get enough infant care slots to make it work?
I see it as a crisis in the state, especially in Greater Minnesota. If a provider can only have 1-2 infants, that doesn't meet the needs. But what is the answer? That's something we really need to be looking at as a state.
How have you seen the needle move in the field of early childhood development? What role do you think the Foundation and the other Minnesota Initiative Foundations have played in that?
It's crazy to see where we were in the field of early childhood 25 years ago – there wasn't a lot of emphasis on it. We had ECFE and pre-school, but that was about it. We've  seen so much  growth and change. It really started with Art Rolnick. Sometimes it takes those professionals in other fields to draw attention to something. Art did that, and then with the MIFs got on board, so it wasn't just the practitioners continuing to speak up, but these other respected people and organizations in the state who were saying "no, this really is needed area in our state, early childhood really does make a difference."
It's changed how things are viewed. All of the sudden people were paying attention because it wasn't just the practitioners who were speaking about it…it's sad that's the way it is, but you do need those outside voices who aren't as invested in the day-to-day care and education, but you need the businesses, those outside researchers, to lend legitimacy and elevate the issue. When you have a Tim Penny talking about early childhood, who is so respected in the state, and the Federal Reserve, it makes legislators and school districts sit up and listen a little bit more.
What about your work inspires you to keep doing what you do?
I just love helping parents and care guardians be the best they can be. We see parents from all walks of life – all income levels, all races, stay at home parents, working families – and helping them all parent to the best of their ability. I love making connections, seeing the kids grow and change, see the parents getting connected to each other and services and agencies that help them. That's what's inspiring to me. I love helping parents and to give them the opportunity to spend quality time with their children and see it as a priority in their life.