Loan Client, 2007; Current Donor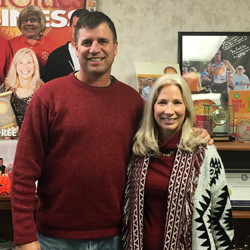 Angie and Dan Bastian are the co-founders of Angie's Artisan Treats, based in Mankato. What started as a part-time business selling kettle corn at Vikings' games has grown into a multi-million dollar company that employs over 200 people, distributes nationally, and is planning on adding a 160-person plant in Nevada.
"Angie's is the type of success story that embodies the hope for SMIF's loan program: a small, early-phase investment that helped a business go to the next level, which in turn has created a huge benefit for the surrounding community," said SMIF Lending Officer Diane Lewis. "It doesn't hurt that Angie and Dan are two of the nicest, hardest working people...we're proud to be a small part of their success."
At what stage was Angie's when you first approached SMIF for a loan? How did your loan from SMIF help you grow Angie's?
We founded the company in 2001, and approached SMIF for part of an expansion loan in 2007. At that time, we probably had around 50 employees. When we got that first loan from SMIF, we weren't a national brand. Since then, we leveraged the loan from SMIF and others to build a national brand of natural, organic popcorn. We've spent the last seven years growing and building a team.
What keeps you excited about your work?
We finally feel like we have a team in place that is experienced and has done amazing things. You get to certain plateaus, and then you build again. We're in another building phase to increase our distribution even more on a national level.
In the last year, we've done Gold Standard Testing. We're a very artisanal, batch produced product. We know exactly what makes each of our products beyond satisfactory. We have confidence that due to the consistency of our staff and production line, that we're as efficient and top-of-the line as possible.
Every time we've thought "we're a real business now!" we realized how much more there is to learn and grow and do. At this point, we're starting to think even bigger about how we can expand our impact beyond our employees and consumers to the larger region. 
Why have you chosen to stay in the Mankato area and Minnesota?
Dan: I grew up in Mankato, and once I left for college, I was gone for about 15 years. We were living in Florida and we made a decision to come back to raise our kids. We decided on Mankato because family was here, the schools were good, and it was familiar. We had such a great base of support immediately that it made sense to set up camp here. Our headquarters and main plant is here, although we do now have an office in Minneapolis and are opening a plant in Reno, Nevada. We're stretching and exploring all parts of the country, but our base is really here in Mankato. This is where we got our start 15 years ago.
Angie: The greater Mankato community has been so supportive. They would buy our product and tell us when things were out of stock. If we had a new flavor, we'd bring it to the baseball game and have everybody there taste it. They were our taste-testers and supporters…because it's such a tight-knit community, they have helped and supported us in so many ways.
You're now a donor of the Foundation. What led you to want to support the work of SMIF?
Dan: We appreciate your commitment to the region. SMIF was a piece of our financing pie and our story. We're pretty loyal people, and we feel a commitment to many different organizations and region, and this area is home to us. It's where we raised our kids. It makes sense to give back to people and organizations that supported us.
Angie: From the other side, I also just love the programming you guys have available. It encompasses building the community from every level.