AmeriCorps LEAP: Launching New Careers in Early Childhood Development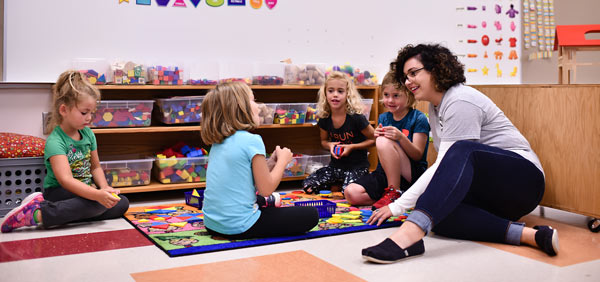 St. Charles Early Childhood Initiative & AmeriCorps LEAP (Winona County)  l  Population: 3,764
Nearly $115,000 invested for early childhood
---
Hilary Kelly is a kid magnet. When she walks into a room, children are around her. It's clear she loves it. As one of SMIF's AmeriCorps LEAP (Learning Early Achieves Potential), members, she saw it as her role to try to give children the ears and eyes working parents may not always be able to provide. "Parents are working hard these days," said Kelly.  "I can say 'today's the day I'm going to be the 30 minutes of extra attention they may not get at home or don't always  get in a 20-student classroom.'"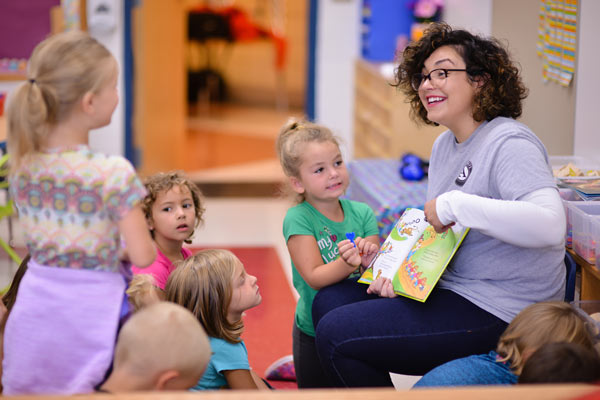 Kelly was born and raised in St. Charles. She was the first in her family to go to a four-year university. "I first heard about the field of social work from my advisor," said Kelly. "Once I did, I realized that was the path I wanted to take." After her internship at Nicollet School District, she knew working in a small town was a priority. "I absolutely fell in love with that rural community," she said of Nicollet. "I'd always loved St. Charles, but that internship experience reinforced my love for small communities and wanting to serve in a community where I got to know everyone – I loved it!"
When her college mentor told her about AmeriCorps, Hilary explored her options to serve in Minnesota and was quickly sold on SMIF's AmeriCorps LEAP program. The LEAP program places up to 20 full-time members in early childhood settings across SMIF's region to focus on social and emotional skill development so kids are ready to learn when they get to kindergarten.
"You can learn hard skills as you get older and build upon those," said Kelly, who served two years in SMIF's AmeriCorps LEAP program. "But a lot of kids lack social and emotional skills like compassion and empathy. Too often, those social and emotional skills get pushed to the side." Kelly returned to her hometown of St. Charles to serve two years as a LEAP member.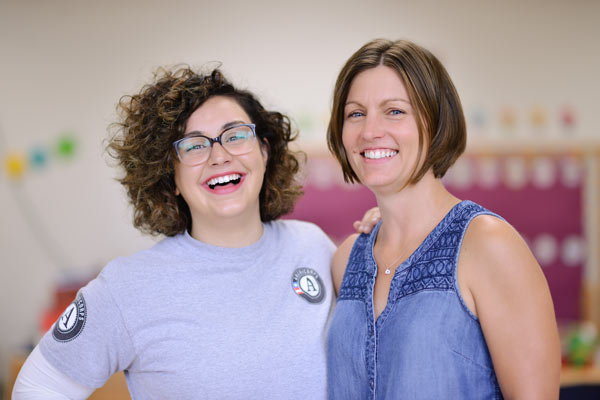 Bringing the Community Together Around Child Care
Kelly is one of many early childhood investments SMIF has made in the St. Charles community. In total, SMIF has invested nearly $115,000 in St. Charles for early childhood initiatives. In 2012, they became one of SMIF's Early Childhood Initiative (ECI) communities.
Heather Millard wrote the ECI application and remains the ECI coordinator for St. Charles, in addition to working as the Early Childhood Program Coordinator. Millard supervises Kelly. For Millard, one of the biggest benefits of the AmeriCorps position is the community connections; Kelly splits between being in preschools and working with families through St. Charles's Early Childhood and Family Education (ECFE) program. "The kids see Hilary at school as well as at ECFE programs, and it's just one more secure thing, one more positive connection they might not otherwise get…that's huge for little kids."
Millard herself grew up near Sacramento, California, but considers herself a small town person at heart. "We live on a 700 acre farm about 12 miles outside of St. Charles…I'm a farm girl!" said Millard. That is part of the reason she's so invested in preserving our rural schools. "Preserving rural schools are key to preserving rural communities and rural communities are imperative to the agricultural businesses that make up our area."
"It's important for those living outside of city limits to have small towns that are close by. When you only have to go 10 minutes to get parts, or to get groceries, instead of a half hour or hour away, it  has a big impact on your day to day operation said Millard. "When you live out in the middle of nowhere like we do, that small town is really our only connection. The only way we can preserve these towns is to help our support or children and their families so we can keep them here." Millard has two kids herself, and was intentional about wanting them to go to a small town school.
One of the big things that keeps Millard energized is the connections she's been able to make through the ECI experience with SMIF. ECI coordinators meet several times a year, one of those with a statewide network at The McKnight Foundation. "The meetings are so great because I get resources and feel like I'm not alone," said Millard. "In a small town, you're the only one, really, working on some of these things…you get kind of, 'lonely' is not the right word, but it kind of is."
SMIF staff work closely with ECI communities and have seen how over the years, having a coordinated effort around early childhood not only among early childhood professionals, but other sectors of the community, helps a community leverage more resources. St. Charles recently received a SMIF Community Collaboration $10,000 grant to support a project between the St. Charles Community Foundation and the St. Charles ECI to build a new playground.
"We've also gotten a lot of funding from private groups around the area who might not really be involved in everything we're doing, but are happy to fund – the snowmobile clubs, the fire department, the grocery stores and small businesses," said Millard. "We still have a pretty good amount of money in our ECI account we could fund all sorts of things with."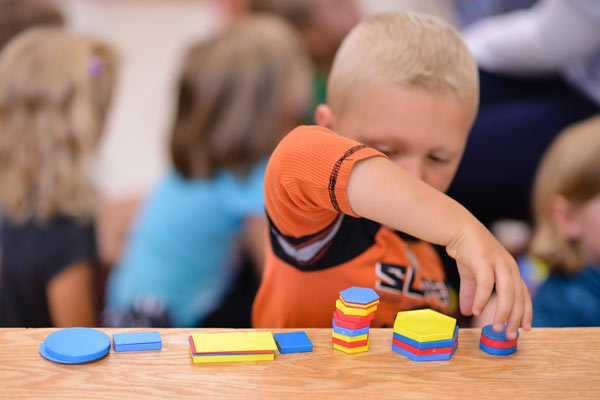 Looking ahead
Millard also said that more people are talking to each other about the importance of early childhood, even though she says they still have work to do. "When I first started with the ECI work, the preschools didn't speak to each other." Now they collaborate to host and participate in trainings and community events. The City of St. Charles has also become more involved in the conversation. In terms of growth, Millard said "next year we'll put more focus on how to bring the child care providers more into the conversation." She also wants to start looking at how they're measuring the longer-term success of their early childhood investments.
"St. Charles is a great example of the change we like to see our investments have – in both money and training," said SMIF Vice President of Early Childhood Rae Jean Hansen. "One thing keeps building upon the other to the point where early childhood is elevated to a community conversation and priority."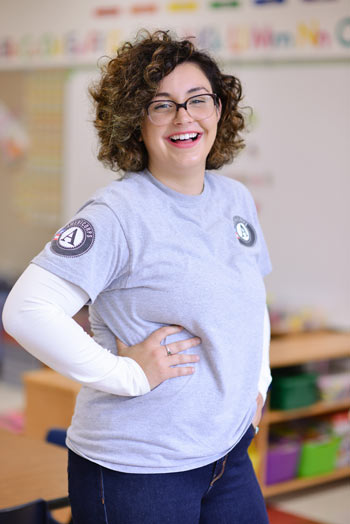 Millard agrees. "I couldn't point to just one SMIF grant: all the grants have come together to bring us together as a community." Her hope for the future: "Down the road I hope there will be enough public education on the importance of early childhood. I hope he decisions will be made easier because we all just know it's the right thing to do…right now we're just paving the way for decisions to be easier later."
As for Kelly, she's off to the next step of her career: grad school. This fall, she's enrolled at the University of Minnesota to get her Masters of Social work. "I remember Tim [Penny] talking at SMIF's annual luncheon about community vitality, about you as an individual can go out, get an education, spread your wings and ultimately bring that knowledge back," said Kelly. "That really resonated with me and what I want to do…I'm excited to be a city girl for a little bit, and then come back and work in elementary school setting, whether in St. Charles or another community."
Learn more about SMIF's AmeriCorps LEAP initiative or learn more about SMIF's Early Childhood Grants.