News & Events
LACF Hosts Successful 2019 Annual Banquet
The Lanesboro Area Community Foundation held its Annual Banquet 2019 on Sunday, April 7 at the Lanesboro Community Center.  Many area residents attended the event, some who have supported the LACF in the past, and others to learn more about the foundation.  Attendees enjoyed a delicious meal catered by the Lanesboro Pastry Shoppe and several bid on various silent auction items which were donated by area businesses, groups and individuals.  The highlight of the evening was special guest speaker and graduate of Lanesboro schools Dean Johnson. 
The attendees of the LACF Annual Banquet 2019 enjoyed a great evening with friends and neighbors learning about what the foundation does.

Special guest speaker Dean Johnson, a graduate of Lanesboro schools, gave a personal and inspirational speech which touched all in attendance.

LACF Board President Louise Wolfgramm spoke to the crowd at the Annual Banquet 2019 thanking everyone for their continued support of the LACF.

LACF board member and Fillmore County Commissioner Duane Bakke spoke at the Annual Banquet 2019 recognizing those in attendance.

A night of celebrating LACF at the 2019 Annual Banquet.

- LACF Treasurer Jim Haugen gave the financial report during the Annual Banquet 2019.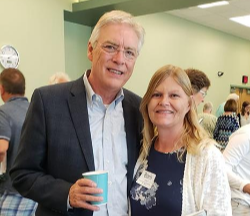 2018 Affiliate Fund Training
LACF attended Southern Minnesota Initiative Foundation's Summer 2018 Affiliate Fund training. We learned a lot and connected with other community foundations in southern Minnesota!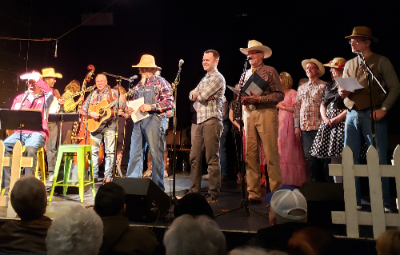 Over the Back Fence Radio Show
The Lanesboro Area Community Foundation had the wonderful opportunity to sponsor the Over the Back Fence radio show which was broadcast live on March 8, 2019.  Barb Jeffers, board member of LACF spoke on the program, promoting SMIF and LACF. Several other board members were also in attendance.
The theme of the evening was "Grand Olde Opry" and included many wonderful musicians singing old time country songs and many laughs were shared by those in attendance as various performers told jokes and performed skits.  The radio show was a wonderful way to share the mission of LACF to hundreds of people in the theatre as well as those listening  from around the county on the radio.