SMIF provides up to $20,000 to nonprofit organizations and communities to launch economic development programs/projects that inspire collaboration and demonstrate results. Applications for 2017 will be due February 28. For more information please contact Jennifer Heien, Grants Coordinator, at 507-455-3215 or jenniferh@smifoundation.org.
ONLINE APPLICATION LINK: You will be prompted to create a login account if you don't already have one.
Go to Early Childhood Incentive Grants (Note: forms are the same for both)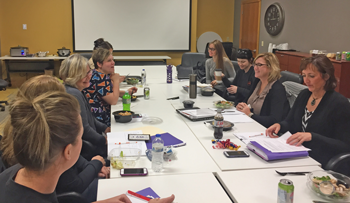 Success Story: Shared Spaces
"Nonprofit organizations used to call to use the meeting rooms in the building. They'd also ask us if we had a screen or projector or other tech needs for the group to use when they came to use the space. Until we received the Southern Minnesota Initiative Foundation, grant we had to say no we don't have that technology, but now we not only have the space we also have the technology which was sorely lacking."
- Nancy Zallek, Executive Director, Mankato Area Foundation