BookStart grants are awarded in partnership with Capstone to organizations committed to distributing books and literacy programming directly to young children in our 20-county region. Applications are generally due in March. For more information please contact Jennifer Heien, Grants Coordinator, at 507-455-3215 or jenniferh@smifoundation.org.
BookStart Grant Guidelines
*Guidelines are subject to change when grant round opens.
Read to Me Project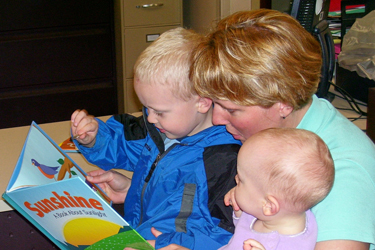 New Ulm's Early Childhood and Family Education (ECFE) program was award 500 books through a BookStart grant for their Read to Me project. These books were distributed across a variety of preschool programs, including Creative Kids, Head Start, Learning Together/ECSE, Together We Grow/ECSE, and Discovery Time, and to those entering kindergarten (given out during parent-teacher fall conferences).
"The Read to Me project goal is for parents and caregivers to inspire a love of books in their young children by reading books together," said SMIF's 2015-16 AmeriCorps LEAP member Deb Steinberg, who works with New Ulm preschoolers. "When parents and caregivers read to their children, they help instill a love of learning and language in their children!"