The Prosperity Initiative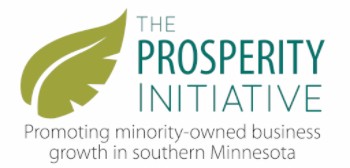 The Prosperity Initiative is a two-year project of Southern Minnesota Initiative Foundation to promote minority-owned business growth and inclusive entrepreneurship throughout southern Minnesota. Funded by DEED, it is designed to provide education and business resources to minority business owners. The program also aims to strengthen and coordinate resources available to minority-owned businesses throughout the region.

If you are a minority business owner and would like to become part of the program, please start by taking a 15-minute survey here. This will help us better assess your business needs and determine which Prosperity Initiative resources are right for you.

Applications due Friday, Sept 23rd for ALEAP Business Training
The Albert Lea Entrepreneur Advancement Program Training Course provides the most promising entrepreneurs the connections, resources, and skills to build local businesses into viable venture - and SMIF is happy to announce they are making up to 10 scholarships available for this course to minority business owners throughout our region! If you are interested in attending, please fill out the attached application and return it to me by Friday, September 23rd. I will then forward your application and, once approved, make payment to the program coordinators.
Dates: Tuesday nights Oct 4 to Nov 1 (Oct 4, 11, 18, 25 and Nov 1)
Time: 5:30-8:30pm
Location: Albert Lea at Riverland Community College
Application Deadline: Friday, Sept 23, 2016
Apply today by completing the application below and sending it to megs@smifoundation.org.
Events Calendar
Read the full program press release here. If you have any questions regarding the survey or The Prosperity Initiative, please contact Meg Steuer at MegS@smifoundation.org or 507-676-8478.
Download The Prosperity Initiative report, which summarizes survey responses from southern Minnesota minority-owned businesses. 
---