Early Childhood Dental Network
It's estimated 17 million U.S. American children don't receive dental care on an annual basis, making dental care the most common unmet health need of children in the nation, according to the National Children's Oral Health Foundation. "Tooth decay is not only one of the most prevalent issues in children's health, it's also one of the most easily preventable," said SMIF's Vice President of Early Childhood Rae Jean Hansen. "However, if left untreated, it can lead to a lifetime of health problems. The goal of the Early Childhood Dental Network is to increase awareness around the rising childhood oral health issue and to utilize our Early Childhood Initiative groups to work on solutions."
Childhood tooth decay is yet another area more likely to affect low-income children. Children aged 2 to 9 living below the poverty line are twice as likely to suffer tooth decay and are twice as likely to have it go untreated. SMIF has received two grants from the Otto Bremer Trust to support this work.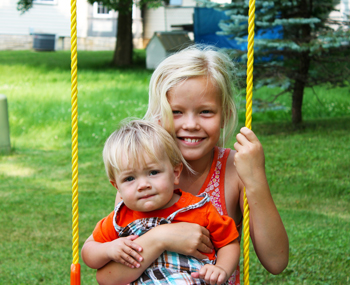 Big Smiles in Rice County
SMIF piloted the Early Childhood Dental Network in two counties in 2015: Brown and Rice. The existing Early Childhood Initiatives in these counties came together for a year of planning and, thanks to a second year of funding from Otto Bremer Trust, they'll be moving into implementation for early childhood oral health improvement strategies this year.
"It is so helpful to be able to concentrate on both education and access," said Sara Line, Rice County's Early Childhood Dental Network Coordinator. "We have sent letters to all families of 1-year-olds in Rice County and many preschool families on the importance of seeing a dentist and taking oral health seriously from birth. We are involving older siblings in our oral health poster contest to again educate on the importance of taking care of our mouths and have created backpacks full of books, activities and puppets for families to utilize at all libraries to further this education. We are working to support dental offices both in Faribault and Northfield to increase the number of uninsured children, as well as those with insurance commonly not accepted at many dental practices (ie, Medicaid), seen and treated at the dentist through Healthfinders and Smile Factory. We couldn't do this without the support of SMIF and the Otto Bremer Trust grant!"
Resources for Early Childhood Dental Network Partners
First Visit to the Dentist: Advice to Parents
Tooth Tips for Infants & Toddlers
Download, fill out with appropriate contact information, and print for ECDN meetings.
---